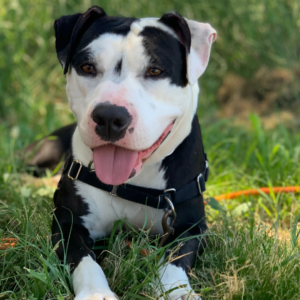 Chestnut the Staffy saved a Kelpie puppy's life last week, after providing a blood donation to help cure the effects of rat bait poisoning.
The 10-week-old puppy named Blu had been rushed to the vet hospital next door, where they discovered she had consumed rat bait poison before she was purchased, and was suffering breathing difficulties and internal bleeding that would normally be fatal.
Blu desperately needed a blood donation, so the vet hospital made an urgent call to Sydney Dogs & Cats Home, and our vet team sent over Chestnut the Staffy.
Sydney Dogs & Cats Home Animal Care Manager Renae said it was a carefully considered decision to send Chestnut to help save Blu.
"We of course made certain that Chestnut's health and welfare would not be compromised by donating blood and we provided all the care and support she needed to recover," she said.
This was an unusual situation for us but we're glad that we could help save the life of a young pup. There is a real shortage of animal blood donors so we would encourage all pet owners to consider whether their pet could donate blood and be a hero too," she said.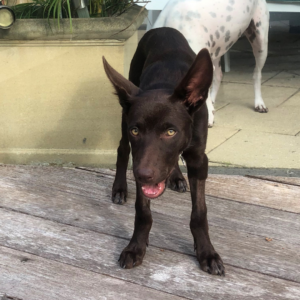 Thanks to Chestnut's blood donation, Blu has been in full health and is keeping her owner Corey on his toes with her newfound energy.
Chestnut has also recovered well and has since been happily chewing away at the veggie pigs ears kindly donated by Blu's owner Corey.
Corey has also enquired about adopting Chestnut, but she's had to respectfully decline as she prefers to be spoilt as the only dog in the home.
After rescuing Blu, Chestnut herself is looking to be rescued! She's Sydney Dogs & Cats Home's longest-standing canine resident currently in care, having arrived as a lost dog in December.
Chestnut may be short in stature, but she's big in personality and has lots of energy for walks and adventures.
To enquire about adopting the very brave Chestnut, visit her adoption profile: https://sydneydogsandcatshome.org/animal/chestnut/
UPDATE: Chestnut was adopted in early April!