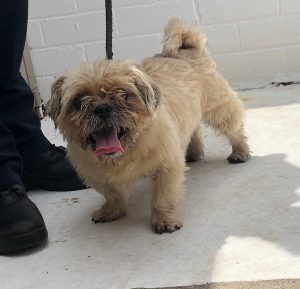 At 10 years 7 months Bullet found himself at Sydney Dogs and Cats Home.  Thankfully this old boy was microchipped, but when the team called the phone numbers and sent a letter to the address listed on the chip, no one came forward to reclaim Bullet.
Your stereotypical grandpa, Bullet loved a stroll and a natter with both humans and dogs alike.  However, Bullet had some obvious health issues.  He had very wobbly hind legs and would drag his back feet.  He had difficulty breathing a result of his breeding as he is a Pug cross Shih Tzu and has the typical brachycephalic flat face that results in the airways being obstructed.  And as seems to be the case with most of our senior residents, Bullet needed to have his teeth attended to.
With no owner coming forward after 14 days, Bullet was transferred into our care, and the team immediately organised to give him such much needed TLC in the form of veterinarian treatment.
It is only through the generous donations from individuals in the community that we can provide our neglected and abandoned senior pets with the care they require to gain a new leash on life.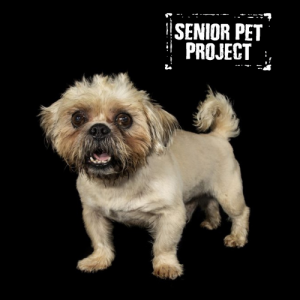 X-rays were taken of Bullet's spine and hips, and this revealed that our darling boy had severely dysplastic (malformed) hip joints and resultant arthritis.  While in our care we provided Bullet with a course of medication to help treat his osteoarthritis.  A soft palate surgery to free up Bullet's airways was also performed.  Bullet for the first time in more than 10 years would now be able to breathe easily.  His teeth were cleaned and dental X-rays, which revealed a minor crack in his molar, were taken.
Bullet was a new man and ready to find his forever home.  Fortunately for Bullet it didn't take long to find that one special person who was willing to provide Bullet with a loving home and ongoing veterinary treatment for his arthritis.
We believe every senior deserves a second chance, and thanks to the generous support of individuals like you, we can provide seniors like Bullet with proper care and treatment so they can find new loving homes to enjoy their golden years.
Please give now to the Senior Pet Project to help us continue to transform the lives of our senior residents.
ABOUT SENIOR PET PROJECT
Our Senior Pet Project, entering its second year, was started as an initiative not only to put a spotlight on these golden oldies to help with their rehoming, but also to raise the funds required for their much needed veterinary care and often prolonged stay at the Home.
With your support we are looking to raise $150,000 by 30 June to fund the Senior Pet Project for the next 12 months, enabling us to give the seniors entering our care a new leash on life.
Support the Senior Pet Project. Donate today.