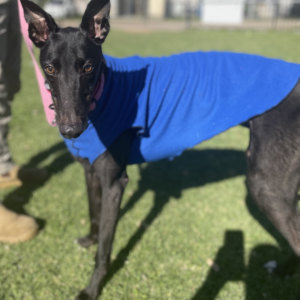 Do you have a spot in your heart and home for a Greyhound who's ready to leave his racing days behind? Meet Jerry Rascal, a charming and eager dog with a heart full of love and a zest for life. Despite never quite finding his stride on the racetrack, Jerry Rascal is determined to show the world just how much he has to offer in a loving forever home.
Jerry Rascal might not have been the fastest on the racetrack, but he's racing into his next chapter with boundless enthusiasm. This Greyhound is ready to prove that his potential goes far beyond the racecourse. With his friendly nature and a heart full of affection, he's prepared to win over the hearts of his future family members.
Having spent his early years on the racetrack, Jerry Rascal is embracing his new social life with open paws. He's a social butterfly who adores meeting new people. His tail wags in joyful anticipation whenever someone approaches, and he's always ready to shower them with love and warmth. Jerry Rascal's eagerness to connect with people is truly heartwarming and a testament to his spirit.
Jerry Rascal's love for food is matched only by his desire to please. He's motivated by treats, making him an ideal candidate for training and building a strong bond. While he might need some guidance in mastering the art of taking treats gently, his food motivation can be a valuable asset as he learns what life is like off the track, out of the shelter and into a home!
Jerry Rascal's ideal home is one where he can be the centre of attention. He'd thrive in an environment without small animals or small dogs, but he might be open to having another large dog friend pending a successful meet and greet. It's important to note that Jerry Rascal has a lively personality and a talent for jumping quite high. To ensure his safety and containment, a home with secure fencing or boundaries is essential.
Transitioning from the racetrack to a home environment might require a bit of patience and understanding, but the rewards are immeasurable. With time, guidance, and your unwavering support, Jerry Rascal will blossom into a loyal and cherished member of your family. By giving him the chance to experience his first-ever home, you'll not only transform his life but also discover the remarkable joy of watching a Greyhound discover the comforts of a loving forever family.
To learn more about Jerry Rascal's journey and how you can provide him with the loving home he deserves, click here to view his profile and send an application today. Embark on this beautiful journey of companionship and watch as Jerry Rascal's spirit shines brighter than ever before.
Posted 8th August 2023