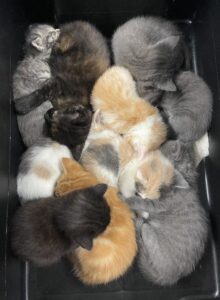 Everyone's heard of the 12 Days of Christmas, but what about the 12 kittens of Christmas?
On 1 December 2020, a policeman arrived on our doorstep with a box of 12 tiny kittens. They had been found all alone at a local pool, underweight with an intestinal tract infection and flea infestation. Some kittens also had mild eye discharge and a sneeze. Being so small at around 4 weeks old, it was important we act fast to help the kittens, so our vet team prescribed anti-parasitic medication, eye drops and probiotics to put their tummies, eyes and skin at ease.
To ensure the kittens could be given the one-on-one attention they needed, they were sent into foster homes where they were medicated daily until their ailments were no more. Thanks to our wonderful donors, the kittens all received lots toys, blankets and beds, as well as high quality cat litter kindly provided by our sponsor Chandler Cat Litter.
Once settled, the kittens began to grow and gain weight. But for one little kitten named Noelle, her recovery wasn't as straight forward. A few weeks after Noelle's arrival, we received a call from her foster carer Robyn – Noelle was experiencing a hyperglycaemic attack and was lethargic and stopped eating. This is a very common condition in kittens where their blood sugar drops. Quick treatment is often the difference between life and death. Luckily, Robyn is an experienced and skilled foster carer who worked with our Foster Care Coordinator to save Noelle. Robyn administered sugar drops to the young kitten in regular intervals, and within 2.5 hours, Noelle's sugar levels had stabilised. Robyn tells us, "it was a Christmas miracle."
Noelle is now happy, healthy, and a little bit famous! Noelle, Oliver and Robyn appeared on Sunrise Weather with Sam Mac in December to represent the 12 kittens of Christmas, and they have since been very popular kitties.
The 12 kittens of Christmas are now available for adoption from foster care and our adoption partner PETstock. They're looking for an indoor lifestyle and a family who can commit to giving them a home for life. Each kitten has their own unique personality:
Mia is an independent and quiet girl who loves to play

 

Andrew is a curious boy who loves his food

 

Rusty is very playful and loves to explore
Panda is confident, independent and likes to explore; she is great with cats, dogs and people
Bear is a shy little guy who loves human attention and reassurance

 

Daisy is an independent girl who loves to wrestle; when she's had enough zoomies she likes to flop onto her humans and fall asleep
Bonnie (bonded with Clyde) is a quiet girl who loves to have a good chat; she's very keen on her food and has her affectionate moments
Clyde

 (bonded with Bonnie) is a quiet, inquisitive guy who loves to hang out with his humans

Noelle is confident, feisty and loves playing with feather and bell boys; she's a lap cat and gives wonderful head bumps

 

Oliver has boundless energy and loves his food; his signature move is "the meerkat nuzzle" where he stands on his back legs and nuzzles your hand

 

Azrak (adopted) is playful and loves to bat around inanimate objects such as pens; he will sit on your shoulder

 

Wobey likes to be picked up and follow his humans around; he loves to climb and play with his feather toys
To learn more about each of the 12 kittens of Christmas, see their adoption profiles: https://sydneydogsandcatshome.org/adopt/*
* If a kitten is listed as available from a PETstock store, please contact the store to enquire about adoption.