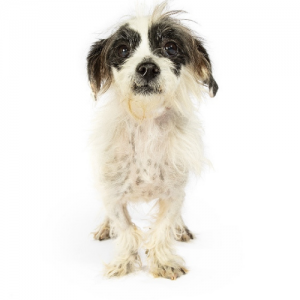 Bondi Behaviourist's Ian Shivers recently adopted Django from Sydney Dogs and Cats Home and has this wonderful advice for people looking to welcome a new dog into their lives....
When choosing a dog, as hard as it is we should select the dog for our homes with our heads rather than our hearts.
When I was looking for my boy I set out what I was looking for by being honest with myself about my situation.
While I love big dogs, I wanted a dog that was small, because I rent and that can make things easier in the future if I move home.
I live with a cat and so he had to be cat friendly.
I love to exercise, but when I thought about it... this is my alone time and so I didn't actually need a high energy dog because I exercise for me rather than my dog.
I also prefer taking my dogs to places to relax with them such as quiet walks, picnics, cafes and pubs rather than dog parks so again not a highly active dog.
I work with dogs every day of my life, so I didn't want a project. This meant choosing a dog that was good with children, adults and other animals.
And finally although I work from home sometimes, he does have to be left alone and so a dog that is comfortable with this was important so that I didn't stress him out when I leave.
The other things I wanted with my heart was a male dog, a scruffy dog and one that was a bit older so that I could take on a dog that perhaps others might not.
I weighed up my options and waited patiently, there were many dogs that I could have taken home but didn't quite fit the bill. Little Django came in and since then it's been plain sailing, he's a legend of a dog who has done nothing but bring happiness to my life and the only credit I can take is that I was honest with myself and waited patiently for the right one, he did the rest by just being him.
Everyone is different and lives different lives, some people will want the exact opposite from me and that's perfect. Getting a dog requires commitment no matter what and even the best thought out plans go off track but if we all take the time to assess our situations and be patient when choosing then it is likely fewer dogs would end up in the shelters.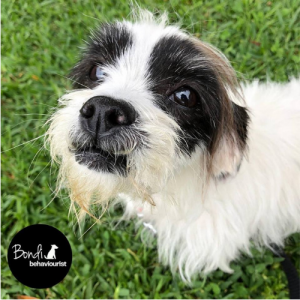 Thank you to Sydney Dogs and Cats Home for being patient with me when helping find Django as well!
And thank you Ian for providing Django with such a great home.  Bondi Behaviourist works across Sydney, with dog behaviour issues and the training of pet dogs.  Their aim is to create a closer bond between people and their dogs, helping rebuild any parts of the relationship that may have broken down.  Learn more about about Bondi Behaviourist and there services here.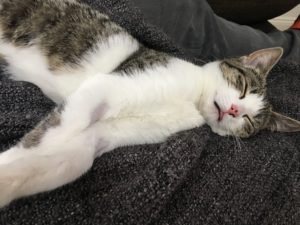 Rory arrived at Sydney Dogs and Cats Home back in July - a seemingly healthy, eight-week-old stray kitten. It was only when our vet team anesthetised Rory prior to her desexing surgery that they noticed something was very wrong.
Rory's breathing under anesthetic became laboured and her heart rate increased. Rather than continuing with the procedure the team immediately gave Rory a chest X-ray. The X-ray indicated Rory might be suffering from pneumonia even though she'd not exhibiting any symptoms like coughing or sneezing.
Rory was put into foster care, given a course of antibiotics and a follow-up X-ray organised to determine if the infection had cleared. Three weeks later Rory was in good condition, eating and playing well, but the second X-ray revealed no improvement with her lungs.
With basic pneumonia being ruled out, the team in consultation with other specialists identified several potential causes of Rory's condition that needed to be considered, one of which was a lungworm infection.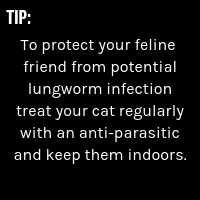 Lungworms are a parasitic worm species that causes severe breathing problems. There are several species of worms that can cause lungworm by migrating to the lungs. The typical symptoms of a lungworm infection include coughing and shortness of breath. Cats can catch lungworms by drinking water infected with worm larvae or by eating rodents or birds that carry parasites.
It is very rare for a cat as young as Rory to have lungworms, but to rule it out the team organised for a fecal test to determine if larvae were present in Rory's stool. The results came back positive and the team began treating Rory with daily anti-parasitic medication. A few weeks later Rory came back in for her third round of X-rays which revealed that her lungs were becoming clearer and her breathing improved so that she could be anesthetised for desexing.
Rory was in our care and under vet supervision for more than 11 weeks. The team were confident that she would make a full recovery and she did. A playful and affectionate girl Rory, we are pleased to report, quickly found her forever home and is living happily ever after.