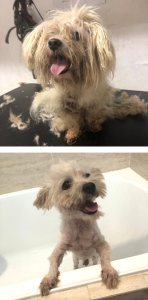 Eight-year-old Ron was seriously disheveled when he turned up at our door with a council ranger in April. We could hardly see him under all his thick, matted fur, which was clearly causing him pain. We got straight to work, clipping his coat and revealing a beautiful Maltese beneath. 
Our vet team also did some routine health checks, followed by lots of tests and scans, revealing Ron had been living with a few issues, including mild dental disease, heart problems, high blood pressure and skin irritation. Despite his long list of medical appointments, Ron was really bright and calm during his stay. Our vet team said: "Ron was an excellent patient throughout his vet work and was very well behaved and brave. Even the ultrasonographer fell in love with him, and was tempted to apply to adopt him."
With a little bit of dental work, pain relief and some medicated shampoo, Ron looked like a new man, ready to kick off his twilight years in a loving home. While he's not showing any symptoms, he still has a few heart and spine issues that could progress in future, so we knew we'd have to find him a committed owner who would support him for better or worse. His family would also have to help build his confidence, as he tended to unsettle easily.
That's where Leanne came in. Leanne has been volunteering with us since late last year, and offered to foster Ron while we prepared him for adoption. She didn't intend to adopt him, but after a while, things changed, and he ended up a permanent pet. Leanne said: "He was such a sweet little boy. I thought I didn't want a small dog, but then he just won our hearts with his big ears and we didn't want to let him go… We love him to pieces. He made himself at home straight away and has come out of his shell. He's an angel. We love him."
Thanks to the generous support of our community and those that donate to the Senior Pet Project, we are able to provide seniors like Ron, who have often been neglected, with the treatment and care they so justly deserve in their twilight years. If you'd like to contribute, you can donate here.