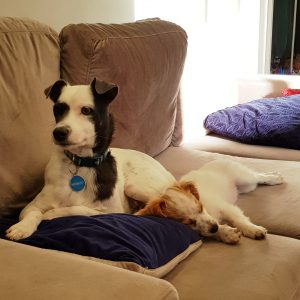 At Sydney Dogs & Cats Home, we think it's important not only for a pet to go into the right family, but for a family to get the right pet. That's why when Nikki gave us a call earlier this year looking for a dog with unique criteria, our team of companion animal specialists got to work to find her the perfect pet.
Nikki adopted a terrier called Cap (previously Oz) from the Home in 2018 to help her family with everyday life as an assistance dog. This time, she was looking to get second dog with cuddly and social traits to get trained up as a therapy dog.
Like it did with Cap, it took a little while for the right dog to arrive, but the result was well worth it. A quiet, cuddly Chihuahua-cross puppy Wanda came into our care and we knew she'd be a great fit. 
As a first step, we got in touch with Lisa from Smart Dogz Behaviour Training, one of the behaviouralists we recommend for complex adoption cases. Lisa helped train Cap and was ready to start working with a second dog for Nikki's family. She had a chat to the family to make sure they were ready to raise a puppy, and they decided to proceed with a foster arrangement.
A few weeks on, Wanda's a permanent part of Nikki's family! After working with Lisa and Cap, the pup has learned heaps of commands, including (but not limited to) fetch, chase, toilet time, leave it, toys away, get the phone, dinner time, recall and say goodbye. What a clever girl! 
Wanda's impressing everyone with her learning abilities, and she's getting on incredibly well with her new family. Nikki said: "Wanda and Cap get along so well that they whimper and cry when they are apart. They adore each other and even play a dog version of football together… Wanda loves cuddles so she particularly helps the kids when they are in pain or upset."
We asked Nikki what she'd say to others thinking about adopting a rescue dog, and she said: "Do it – it's amazing! You'll save a pet's life and get the perfect pet. Rescued is the best breed! And talk to Sydney Dogs and Cats Home about getting the right pet for you."
We couldn't have said it better! Contact us on 9587 9611 or info@sydneydogsandcatshome.org to get the ball rolling.