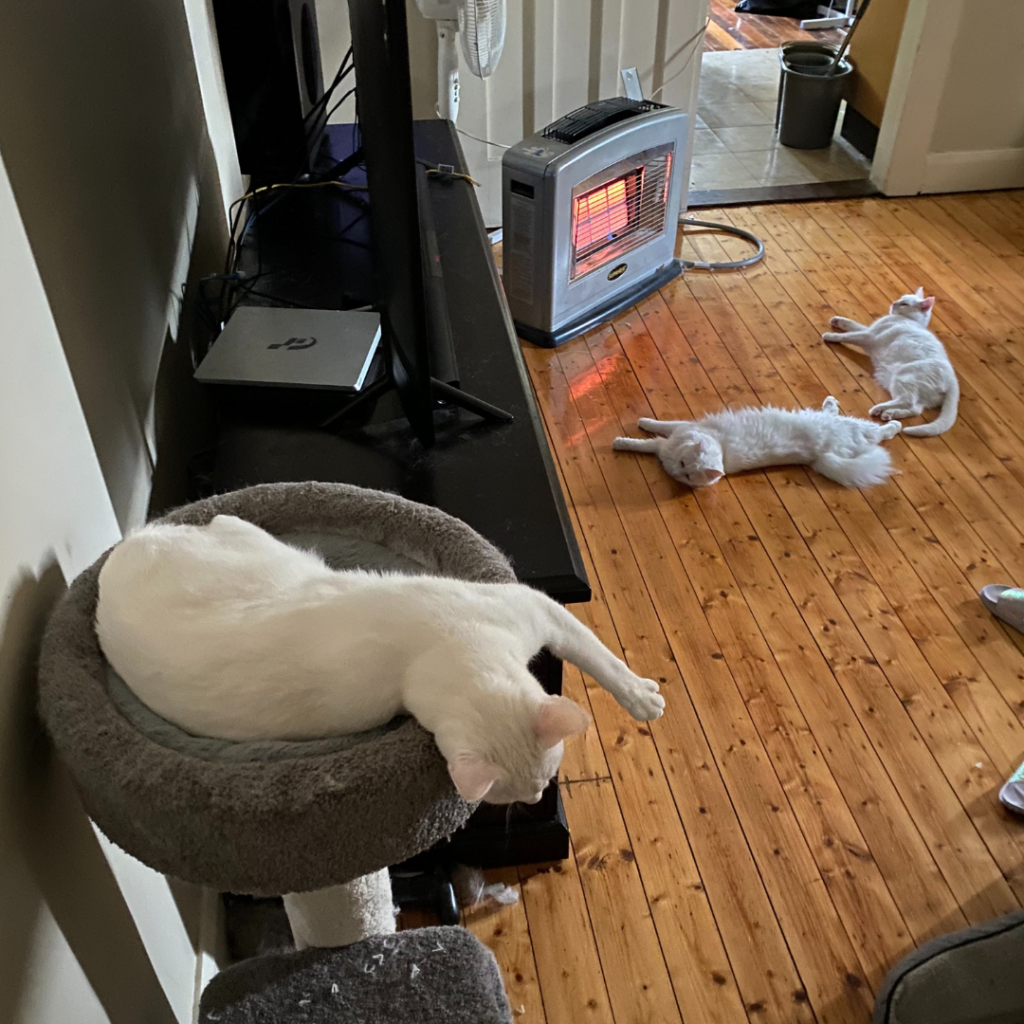 Paul had always loved cats. All his life, he had a cat in the family. He found himself drawn to them, enthralled by their ability to make you earn their trust.
Paul's first cat was a rescue. When he was 13, his family took on a sick abandoned cat, who went on to become a much-loved member of the family for 24 years. To Paul, that cat was his best friend. So when he moved out of home, he needed a cat. His first came from a pet store after he saw the black beauty looking alone and unhappy in her enclosure. She went home with Paul, and a few months later, he was back for a second – the runt of the litter who hid in the back of the enclosure, trampled by her siblings. 
16 years later, Paul had to say goodbye to his special runt. Having had surgery a week earlier, he was in a bad place and felt incomplete with only one cat. His black beauty was also on the sad side, missing her sibling. 
A few months later in June 2019, Paul's parents, who had been without a cat for a few years, were feeling it was time to get a new pet. Paul suggested looking at Sydney Dogs & Cats Home, as we'd recently helped reunite his daughter with her lost dog. His parents looked at our website and noticed Basil the cat, who they adopted that day.
Paul went with his mum to collect Basil. He always felt a need to take less-loved and under-appreciated animals under his wing, so seeing all the beautiful animals needing a home broke his heart. He asked if he could stay in the cattery and show the cats some love, where he noticed a gorgeous white cat watching his every move.
When Paul took his mother and her new cat home, he couldn't keep the white cat out of his head, convinced he needed a second cat in his life. Paul's mother asked what was wrong, and when he explained, his mother laughed. "Go get him," she said.
Half an hour later, Paul was back at Sydney Dogs & Cats Home learning more about the curious white cat. The staff surprised him when they said he was deaf. But that didn't matter. Paul took Hunter the cat home and he and his two children were blessed again with two cats. Hunter adjusted quickly to adopted life and soon became a valued member of the family.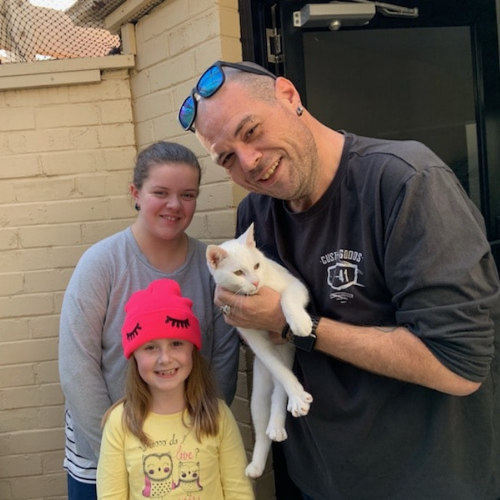 Some months later, Paul's black beauty reached 18 years and her health declined, so the family had to say goodbye. Though Hunter had only known his adopted sibling for a few months, Paul noticed he felt the loss.
But with time, Hunter recovered and his true colours began to shine. He was cheeky, full or life and very affectionate, when he felt like it.
Shortly after he'd lost his black beauty, Paul received an unexpected phone call from Sydney Dogs & Cats Home. We had a gorgeous white female cat ready to be adopted into an indoor home. This cat was something special – just like Hunter, she was deaf. 
Paul grabbed the kids and whisked into the shelter. Before they knew it, they had a second white deaf cat. Already having Hunter, the family decided on the name Holly, and so the joke became that Paul had Holly Hunter at home.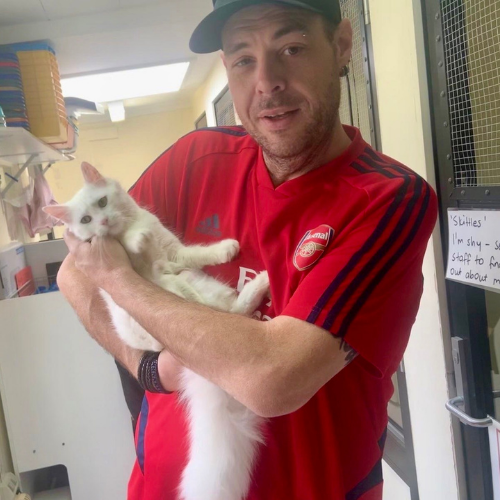 Hunter was happy to have a friend again. Him and Holly were a great pair and very quickly made Paul's life feel full again.
Having rescued two amazing cats from Sydney Dogs & Cats Home, Paul volunteered his IT services to help the Home and our furry residents. In October 2019, the internet went out for a few days, so he took a backup service to keep us up and running.
The internet was fixed and for a while, Paul forgot to pick up his loan equipment. So we gave him a call with an incentive. "It will be worth your while," we said.
So Paul came into the Home, expecting to be rewarded with some playtime in the cattery. Instead, he was shown a dazzling white deaf cat named Nimbus with striking blue eyes. So as tradition told, cat number three was welcomed into Paul's family.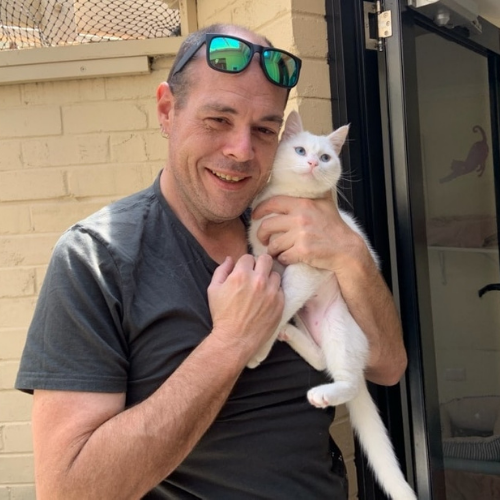 Nimbus ruined the Holly Hunter joke, so the family made clever use of alliteration to rename the new addition. So Nimbus became Hettie, and she settled in well with her new siblings.
While Paul notes that the cats' inability to react to sound is challenging, they know hand gestures and body language, and each has their own quirky thing they respond to.
Paul said his experience with Holly, Hunter and Hettie has made his family appreciate the importance of adopting pets who need a loving home. 
"Even my children who are 14 and 8 understand that #AdoptDontShop is the right thing to do as it means that an animal who has lost all hope is given a chance again at being a loved family member," he said.
 "I cannot recommend Sydney Dog & Cats home enough to everyone I know, and I encourage everyone to Adopt Not Shop with them.
If it wasn't for them, I wouldn't have my three fur babies who mean the world to me and have made not only our lives – but our home – complete."
Want to see more of Hunter, Hollie and Hettie? Follow their Instagram @hunter_holly_and_hettie.