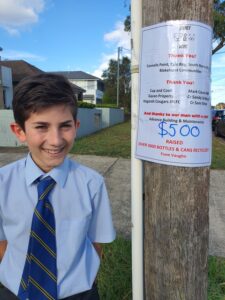 An 11-year old South Sydney boy named Vaughn has collected over 3,000 recyclable containers since June to Return and Earn for Sydney Dogs & Cats Home.
Vaughn's fundraiser started as a collections box in his front yard, quickly growing into a community initiative, with locals like Mark Coure MP hearing word and making donations.
Vaughn's mother Barbara said Facebook and her existing connections were key in the success of the fundraising drive.
"We posted about it in a local community group Mark Coure was part of and he got the ball rolling, visiting our home with some money to put towards Vaughn's drive," she said.
"I'm a teacher and had some connections already, so I made some calls to get the community involved."
Locals including Councillor Sam Elmir, Councillor Sandy Grekas, Kogarah Cougars Rugby League Club, Cup and Cook Kyle Bay and Gavan Property got involved with Vaughn's drive, donating recyclable containers and money.
Vaughn said the fundraiser was part of a school project to serve his community, so he chose to help the charity who helped get his dog home in 2018.
"Our dog wouldn't stop jumping over the fence and when she was lost, unlike other pounds, Sydney Dogs & Cats Home wouldn't rest until she was home," he said.
Vaughn's drive earned $500, with each container earning 10c at Return and Earn points in NSW.
Sydney Dogs & Cats Home General Manager Mark Hearnden said the shelter is extremely grateful for Vaughn's fundraiser.
"We were so excited to hear about Vaughn's drive, especially how it has been bringing the community together to support our shelter and its furry residents," he said.
"As we're Sydney's only charity pound and community facility, every dollar Vaughn has donated is going to make a huge difference for the lost, abandoned and often neglected pets who come through our doors."
Vaughn's fundraiser ended on 31 October, but he is excited to make it bigger and better next year.
Vaughn will soon visit Sydney Dogs & Cats Home to meet some of the furry residents and see his donation in action.
Published 3 November 2020