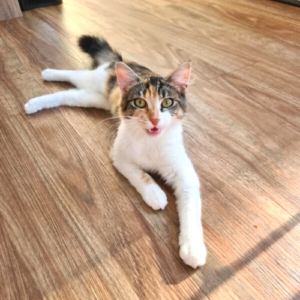 When cats arrive at the Home, they go through routine health checks and procedures to ensure they're happy and healthy before going to their new homes. This is so we can identify issues like ringworm, which was affecting Motley when she came into our care in August.
Ringworm is a common fungal infection in cats that can cause hair loss and adverse reactions such as dermatitis. It's also contagious and can be passed onto humans, which we thought would make it difficult to find a foster carer for Motley.
Fortunately, we have a community of foster carers who consistently go above and beyond for our cats, and Motley was in foster care within days of her diagnosis.
Not only did Motley's foster carer commit to consistent ringworm treatment, personal protective equipment and all, she also helped Motley come out of her shell. Motley has started to approach her human for pats and playtime, and show her affectionate personality.
Motley will soon come back into the Home to check the progress of her treatment. If resolved, she'll soon be desexed and become available for adoption!