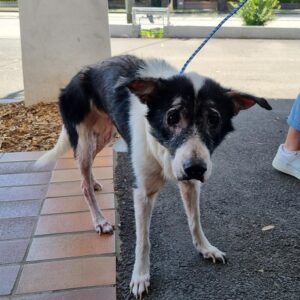 Alexis (better known as Lexie) is probably a familiar face. It's hard to forget the sad, forlorn face of Lexie the Border Collie, who captured hearts as the face of our Best Friends Campaign in May and June. From the moment Lexie came into the care of Sydney Dogs & Cats Home, her journey from a painful and extremely sad dog to a friendly and beloved family pet has been awe-inspiring.  
 Lexie arrived at Sydney Dogs & Cats Home in February of this year with some of the worst skin disease the Head Vet had ever seen. She was covered in fleas, her skin was infected, thickened and red. She was so itchy that she had lost most of her fur. Additionally, Lexie was undernourished, desperately requiring TLC. Our vet team quickly devised a comprehensive plan to tackle her skin disease. Through medications, supplements, and a tailored diet, they began her recovery. Placed under the watchful care of Sydney Dogs & Cats Home Foster Carer Annie, Lexie embarked on a journey of physical and emotional healing. 
 Annie's dedication to earning Lexie's trust and providing a safe haven was nothing short of heroic. From patiently sitting by her crate to creating enticing, dog-friendly meals to entice Lexie to eat and take her medication, Annie proved to be the steadfast support Lexie needed. As days turned into weeks, Lexie's progress became evident, and her true personality emerged, marked by both friendliness and a touch of sass. 
 Without Annie's persistence and unwillingness to give up on Lexie and with the help of the team at Sydney Dogs & Cats Home, Lexie wouldn't be in the position to have met Jeff and Jane.  
 Jeff and Jane had recently lost their rescue Border Collie x Jack Russell who they had for 15 years and felt like they had so much more love to offer a rescue dog, so they began searching for their perfect match. They saw photos of Lexie when she first arrived at the Home, sad, frightened and in such poor physical condition and then saw newer photos of her in foster care with Annie, where she was much happier, rediscovering the joy of being loved and taken care of. Jeff and Jane were determined to give Lexie the chance to receive the love and care she deserved.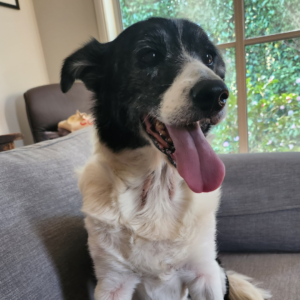 After engaging in meaningful discussions with the Home's team regarding Lexie's needs and being aware of their capacity to provide her with love, time, patience, and resources, Jeff and Jane, who had a wealth of Border Collie experience having cared for three in the past, submitted their application. Before long, they had the privilege of meeting Lexie face-to-face for the very first time. 
 For Jeff and Jane, it was instant love. While Lexie was initially timid and anxious, her loving and sweet nature quickly shone through, and it wasn't long before she approached for pats and a quick cuddle. Jeff and Jane say they were quietly ecstatic by this and were excited to go for a walk with her around the block. They also had the chance to meet Annie at the meet and greet, who answered all their questions and queries and gave them invaluable advice and tips that she believed Lexie would benefit from. It was clear to Jeff and Jane just how much care Annie and the team at the Home gave  Lexie and they would not want anything less than total commitment and love from potential adopters.  
 Annie has been an integral part of Lexie's transition to her new home with Jeff and Jane, from being Lexie's personal chauffer from Sydney to her new home in Bowral, visiting Lexie when she can, providing Lexie with care packages including treats and toys and instructions that Annie herself found useful when caring for Lexie. In the process, Annie has not only become a trusted friend to Lexie but has also forged a friendship with Jeff and Jane. 
 Lexie has settled into her new home beautifully. Jeff and Jane were able to gradually build Lexie's trust and she is now their little shadow, participating in all the family activities. Jeff says, "We found that by taking things slowly and quietly, giving Lexie her own space and time letting her decide when and how to react to situations, was the key to success." 
 Now Lexie spends her time playing with her dog and human friends at the dog park and often playing 'referee' to the squabbles when some of the dogs are playing a little too rough. She has enjoyed rides in the car, walks along the beach, lounging in front of the fire on cooler winter nights, helping to unpack groceries and loves having her tummy rubbed and her ears stroked.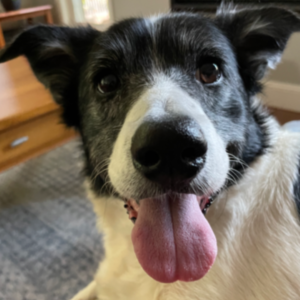 Jeff and Jane have spoken highly of the exceptional dedication shown by Sydney Dogs & Cats Home and Annie. They praise the time taken in ensuring not only Lexie was loved and cared for while she began her healing journey and her quest to find a new home, but also ensuring Lexie's wellbeing remained the central focus during the adoption process. Jeff says, "The level of support for adopters is comprehensive and outstanding, nothing is too much trouble."  
Lexie has made incredible progress while in her new home and it's clear Jeff and Jane are devoted to ensuring Lexie feels safe, cared for, and loved and continue to help build her confidence. They are even looking forward to enrolling her into scent work classes which they hope will be a rewarding adventure for the entire family.  
 It can often take a whole village of people to ensure dogs like Lexie recover and heal and gain their happiness and joy back. Jeff and Jane acknowledge that without an amazing foster carer like Annie, they are certain Lexie wouldn't be the dog she is today.  
 They say to anyone thinking of welcoming a rescue dog into their heart and home; "The chance to answer that call is a blessing and one that will almost certainly reward adopters with so much love and joy. It's an enriching experience to witness Lexie's zest for life and beautiful personality re-establish." 
Published 1st September 2023