Big, small, young or old – at Sydney Dogs and Cats Home, we do not discriminate, which is why we are introducing our Senior Pet Project to shed light on the benefits of owning a senior companion.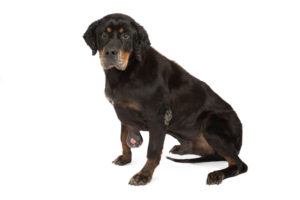 Current resident, Zeek is a Rottweiler X who we estimate to be about 14 years old. He came in as a stray from the Fairfield Council area and arrived with a large lump on his chest and feeling a bit sorry for himself. The lump was removed by our Shelter Vet, Christine Cole, and ever since the surgery, Zeek's personality has been shining through and we've discovered he's a dog who acts much younger than his years.
His story doesn't end there though, as he is now available for adoption and looking for a loving home where he can spend his golden years.
Zeek is one of many senior animals coming through our doors and while they are just as deserving of a forever family, they can often be overlooked for a younger pet.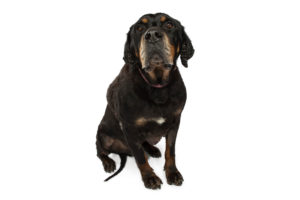 There can be the misconception that older animals are no longer interested in playing and only sit and lie around, however we have found that so many of them, while they do enjoy their relaxation time, will still have plenty of energy and enthusiasm for walks and playtime – they often don't know their own age!
Adopting an older companion can also be beneficial in that their new owners won't necessarily need to go through the training which is required when adopting a puppy, as many are already toilet trained with basic training skills.
Like Zeek, a number of these senior animals arrive requiring veterinary assistance. As Sydney's only charity pound, we rely on donations to help us provide the medical attention they require, so that we can give them that second chance at life, even if it is just for a few more precious years.
Please help us give the best possible care for these beautiful old souls by making a donation today.