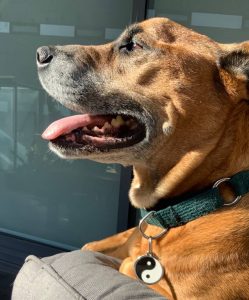 When Michael had to say goodbye to his dog at the end of a divorce, he walked into the Home in December 2019 hoping to find an older dog to share his life with. As he had a look in the kennels, he noticed 10-year-old Herbert, who had been at the Home for six months. Michael had seen Herbert in a video on our website and knew he'd had a rough past. He was brought in with anxiety and some health issues, but after a few treatments and some TLC in foster care, Herbert brought out his "big ol' grin", which got Michael hooked.
After seeing how much the staff at the Home loved Herbert, Michael signed the adoption papers and brought him home.
The first month was a bit rough, as it took Herbert a bit of time to settle into a new home and a new routine.Then sometime in week four, things settled down. Michael said, "Herbert clearly realised that this wasn't another foster home – this was home. He sat down next to me on the couch, put his head in my lap, and fell fast asleep. And ever since then, he's been the sweetest, happiest, and most obedient dog in the world." 
Today Hebert is a happy doggo who loves to sleep – on the balcony in the sun, in his bed, under the desk while Michael works, on the couch while watching TV – everywhere. He loves his walks and will go for five or six per day if he gets the chance. In fact, his walks have been keeping Michael sane while self isolating. Herbert also likes chasing balls, but Michael admits he's not very good at the 'giving the ball back' bit.
Best of all, despite his past, Herbert loves people: "He wants to be best friends with every since person he meets, and the absolute highlight of his day is a scratch behind the ears from someone we've met out walking."
We asked Michael what he loves most about Herbert and he told us: "Everything – from his happy grin, to the way he snorts and snores and chase bunnies in his sleep, the way he huffs like a grumpy old man when he doesn't get his way, his sad eyes and droopy face, his sweet good nature, and the way he makes me feel both unconditionally loved and like I've given a sad old dog the loving home that he always wanted… Oh, maybe not everything. He farts like a trooper, but I forgive him for that because otherwise he's just perfect."
Thanks to the generous support of our community and those that donate to the Senior Pet Project, we were able to provide Herbert with the treatment and care he so justly deserved before he was adopted. If you'd like to contribute to the Senior Pet Project, you can donate here.