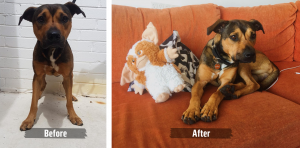 You couldn't tell now, but one-year-old Peewee came into the Home in mid-March timid and severely underweight. It appeared the sweet boy had a rough childhood, displaying battle scars on his head. When approached, he used to flatten himself to the kennel floor, but the SDCH team have gotten him back on his feet.
To help him gain weight, our vet team put together a special meal plan to help him gradually and safety gain weight. He was given a combination of Hill's Prescription Diet i/d and Hill's Science Diet Puppy in small portions several times a day. The puppy food is high in calories and nutritional value, and i/d is great for supporting digestive health, so together, they have been helping Peewee gradually gain weight and feel healthy.
SDCH staff and his foster carers have been spending lots of quality time with Peewee, so today, he's wags his tail when approached and loves his walks. His foster carer Thomas said he's a wonderful companion for him and his partner.
"Peewee is a very sweet and tender little boy with so much love to give," he said.
"We see him getting more confident and affectionate each day. We just love waking up to his wagging tail and wet nose in our faces in every morning. During the day, he's a very calm little couch potato who is just starting to enjoy a nice chewy toy. Peewee loves a good long walk, especially when we get to meet other local doggies. He's extremely friendly with other dogs, and would perfectly suit someone with another dog."
Since being up for adoption, Peewee has received many enquiries and applications, so we're optimistic he will find his forever home soon.*
*Update: Peewee found his forever home on Easter Saturday!