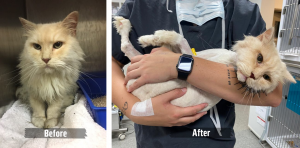 Ten-year-old Lorna came into the Home in early March looking like she'd had a rough life on the streets. With matted fur and severe dental disease, it was clear to our veterinary team she was in a lot pain.
As soon as she came into our care, Lorna was given urgent dental treatment. With rotting roots, missing teeth and puss filling her cavities, the team had to remove her remaining teeth – a procedure lasting three hours. They also gave her a major clip, shaving her matted fur short to remove knots and maintain comfort levels while she recovered from her surgery.
Lorna was quick to recover and showed no signs of pain in her post-surgery check-up. She was very affectionate with the veterinary team and accepted headrubs with pleasure.SDCH Veterinary Nurse Caroline said Lorna was an excellent patient.
"She has a much improved quality of life now," she said.
"She's a really sweet cat. Everyone who comes across her loves her."
A short 19 days after Lorna's arrival, Lorna found her forever home, where she can live out her senior years without pain or worry.
Thanks to the generous support of our community and those that donate to the Senior Pet Project, we are able to provide Lorna and the other seniors, who have often been neglected, with the treatment and care they so justly deserve in their twilight years. If you'd like to contribute, you can donate here.