Harley (previously Celine) came into the Home in December 2019 as a stray with lots of aches and pains. As an older girl of 14 years, she had a few health issues, so the SDCH team started her treatment right away.
Harley was desexed, had seven teeth and some breast tissue removed and underwent hernia surgery. The team also did some investigative procedures, discovering she has end-stage kidney disease, worsening tracheal collapse and degenerative joint disease in her front legs. While these issues mean Harley has problems with frequent urination, breathing and arthritic pain, she can still enjoy a good quality of life with proper care and health management.
Harley was put up for adoption as a palliative care patient, meaning her new owners would need to provide her with medicine to help manage her disease symptoms. After a total of 62 days at the Home, Harley found her perfect match, Rebecca. After Rebecca lost her dog of 15 years, she started volunteering at SDCH, fostering animals including Harley.
Rebecca said her and her partner fell in love with Harley's sweet personality.
"We felt we could give Harley a good home for her ageing years," she said.
"She brings us lots of love and keeps us entertained… She is lots of fun, she loves attention and walks. She will also chase a ball and play games. She is a great companion for me."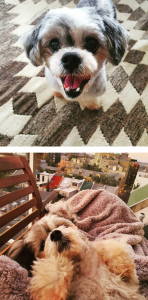 Having a senior dog doesn't come without its challenges, but Rebecca said having Harley works well with her lifestyle and is very rewarding.
"She needs a bit more care than a standard adult dog with medicine, being careful on the stars, exercise and entertainment, but she is well trained and loves people and other dogs," she said.
"Mostly she naps all day so she is good for our busy lifestyle, and she's happy to just tag along to whatever we are doing."
Harley still had a few issues such as frequent urination, but with a bit of TLC, she's become a much happier and healthier dog than the one that arrived at SDCH.
"I got Harley just after surgery and she had a few residual issues… but once we gave her the love she needed, all those issues were resolved as I think she was less anxious and happy… She improved leaps and bounds with a bit of love and attention!"
Harley's been a very busy girl in her new home, shaping up her own Instagram account @harley_in_the_hills – make sure to check it out!