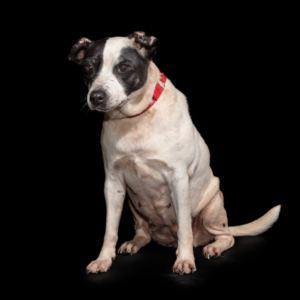 Bandit (formerly Clare) the 7-year-old terrier arrived at the Home back in March quite nervous and in a dire situation. She had severe dental disease, was covered in fleas, had infected flea-bitten skin and her right eye was completely enlarged and required urgent surgery. It was clear that she was in a great deal of discomfort and in a lot of pain. The animal care team at the Home knew they had to take immediate action to relieve Bandit's pain. It was a blessing in disguise that Bandit arrived when she did, as her eye and other health issues could have worsened.
The animal care team performed surgery on Bandit to address her dental disease and to surgically remove her right eye, to ensure she could live a pain-free and comfortable life as soon as possible. After the successful procedure and many health checks, Bandit recovered well with a lot of rest in foster care.
Bandit has recently been adopted and has settled in at her new home. She has since been on many exciting adventures and living her best life, now that she is pain free. It's now Bandit's time to enjoy the rest of her latter years with her new family.
Bandit's new family have gone above and beyond to ensure she receives the life she deserves. She has a safe space in the living room with a comfortable bed and her family have been working with her to ensure she settles in well to her new home. In every update received, Bandit has made big improvements and is loving her new life!
It's not unusual for dogs just like Bandit who may require urgent surgery and a little extra care to come through our doors and Bandit has proven that with the right care, treatment and love, she can live a normal life just like any other dog!
Published on 30 June 2022