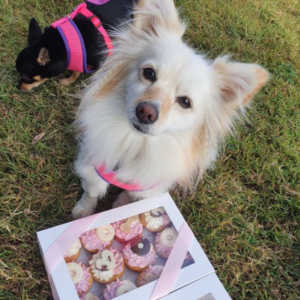 We received an awesome update about Lily (formerly Bindi) the Pomeranian who recently celebrated her 3rd 'Gotcha Day' with mum Despina. Lily spent the day with The Mighty Chi's, a local group of Chihuahua dog pals who celebrated Lily's special day with pupcakes and dog-friendly biscuits. Despite not having any Chihuahua in her, Lily was accepted into the group, became a regular at meetups and was whole-heartily welcomed as an honourary Chi!
Despina shared that she originally came to Sydney Dogs & Cats Home to adopt another dog. After chatting with the staff about her desire to have a dog who would have adventures throughout Sydney and join Despina at work doing dance therapy in aged care, it was ultimately decided it wasn't the best fit. Along came Lily, who at the time wasn't yet available for adoption but Despina was given the chance to take her for a walk and she fell in love. "I put in my application that day so that I could pounce the nanosecond Lily was up for adoption." It wasn't long until Lily became available, and Despina calls herself the luckiest person in the world to become Lily's mum.
Lily spent her first two weeks in her new home becoming her mum's little shadow, following her around each room and not letting her out of sight. Lily eventually settled in and began her new adventure-filled life. Lily enjoys spending her time rumbling with her best friend, Tiffany the Chihuahua, chasing other dogs at the dog park, and going to work with her mum. But one of her biggest achievements has been assisting an 85-year-old woman at her mum's work to get over her life-long fear of dogs after a bad experience as a little girl.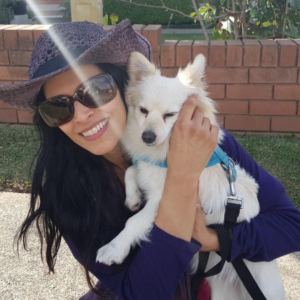 While Despina was originally disappointed that it wasn't the right fit with the first dog, she was happy and confident when Sydney Dogs & Cats Home staff said Lily was a great fit. Despina's advice to other animal lovers looking at adopting is "chat to staff honestly about your lifestyle and the life your dog would lead so they can match you with the perfect dog."
Rescue dogs like Lily can make a large impact on many people's lives and in turn, rescue animals receive the second chance they deserve. All the staff and volunteers at Sydney Dogs & Cats Home wish Lily a Happy Third 'Gotcha Day'!
If you are thinking of welcoming a furry friend into your home and giving them the second chance they deserve, click here to see all our pets waiting for their forever homes.
Published 28 June 2022