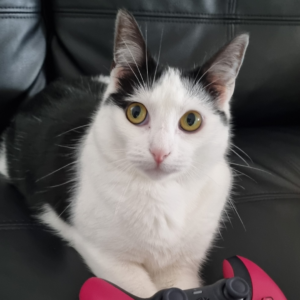 Elysia had heard about Sydney Dogs & Cats Home 6 years ago from her mum who knew she had been wanting to adopt a rescue animal. When Elysia and her partner moved out, they started looking for a 3rd member of the family and had seen Topdeck on the SDCH website. However, at that time weren't quite ready for a pet. Fast forward 3 months and they were finally ready and by chance, Topdeck was still available, and it was meant to be! Elysia says "Topdeck is a serious joy to have around. From his cute beeps meow to his crab walk ritual in the morning he is the best and we love him so much." Elysia and her partner adopted another cat, Cinnamon who Topdeck has a bit of sibling rivalry!
Topdeck very much made himself at home from the get-go and has become a huge part of their family. He even claimed a beanbag as his throne and is now one of his favourite spots to chillax! Elysia says "The impact Topdeck has had since coming into our lives is huge. He's always there for us if we feel down or lonely. He is always there for a cuddle and a purr.'"
Apart from claiming his throne and being a snuggle bug, Topdeck loves any event involving food and lets Elysia and her partner know with his beeps that he is ready to eat! When he's not eating, he loves anything that has a string attached and batting at their feet while in bed! Most of all, he loves being cuddled next to the window as he watches the trains go past.
Elysia's advice for anyone looking to adopt is "Adopting a pet will change your life and you have to be prepared! You're not just taking on another mouth to feed, you're becoming their whole life and the supporter for theirs!"
If you are thinking about adopting a pet, check out all our pets available for adoption on our Adopt page here.
Published on 17 June 2022