Imagine coming back from holiday to find that your beloved family pet has gone missing. There are messages on your phone from the local shelter and a notice in your letterbox explaining that your pet is in their care and if you don't reclaim your pet within two weeks it will become available for adoption by someone else. You call the shelter immediately, but it is too late! Your pet – in their care for 20 days – has been rehomed.
If another 24 hours had passed this would have been the reality faced by Fonzy's family.  Fonzy's family had been on the overseas holiday of a lifetime, only to return and find their precious pooch missing.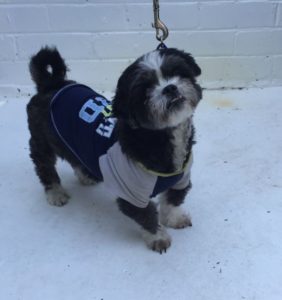 Fonzy had been entrusted into the care of a family-friend.  Somehow Fonzy ended up wandering the streets and was picked up by a council ranger who brought him to Sydney Dogs and Cats Home when he was unable to reach Fonzy's owner.  The pet-minder who lost Fonzy, didn't tell the family he'd gone missing and didn't know how to find Fonzy.
Fonzy's story, unfortunately, is not a unique or isolated case.  The following week we had another occurrence of an owner leaving a dog in the care of a friend while they went overseas for three days.  The dog went missing on day number one and the minder didn't tell the owner.  Thankfully this dog was picked-up, unharmed and brought into Sydney Dogs and Cats Home. We were able to reunite this dog with his owner during the two-week hold period.
These two instances both had positive outcomes for the pets and the owners.  However, this may not always be the case. To help safeguard your pets should you leave them in someone else's care, we have developed the following precautionary checklist:
Make sure your pet is microchipped and the contact details are current; updating your details is free and can be done at your council or online at petregistry.nsw.gov.au.
Add the carer – or a trusted friend who isn't on holiday with you – as a 'secondary contact' on the microchip; this can also be done at your council or online via petregistry.nsw.gov.au and there is no cost.
Ensure your animal has a collar with a tag with your contact details and that of the temporary minder; do it yourself don't rely on the carer to add their details.
Leave the carer with the number of your local impound facility as well as contact details of your local vet; you can find contact details of your local impound facility from your council or via a google search.
Additional advice for people leaving their dog in someone else's care:
double-check the carer's fencing to ensure it is secure with no means to escape;
brief the carer to leave the dog's collar on at all times;
advise the carer to only ever walk your dog on lead – even at the off-leash dog park; and
ask the carer to stick to your routine as closely as possible (e.g. feeding timing, walking, etc.).
Tips for people leaving their cat in someone else's care:
never let the cat out whilst it is being minded by someone else, even if  it is in your own home; and
ask the carer to stick to your cat's routine (e.g. feeding, toys, litterbox cleaning, etc.) as much as possible.
Accidents can happen and if you reside in one of the eight council areas (i.e. B
ayside, Fairfield, Georges River, Inner West, North Sydney, Randwick, Waverley, Woollahra) service by Sydney Dogs and Cats Home please go to the lost page of our website if your pet is missing.  Nothing can ruin a post-holiday high faster than finding out your pet is lost.  We hope the above can help safeguard that from happening or at least ensure that if it does you and your pet are reunited.