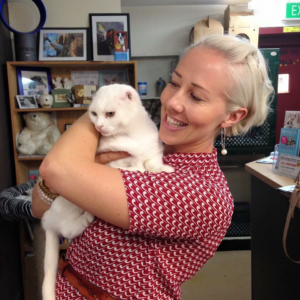 Loving cats and dogs equally, Holly is proud to be leader of fundraising group Team Cat in the upcoming City2Surf. "I love all the different personalities of cats," Holly said, "from too-cool-for-school cats to loving little darlings like Gracie."
Holly has been a supporter of Sydney Dogs and Cats Home for several years.  It was back in 2015 while helping out behind reception that Holly fell in love with and adopted Gracie, the office Cat.
"With a full-time job involving lots of travel and living in an apartment, a cat is the perfect companion for my living situation. Gracie is just awesome – she has enriched my life no end.  Such a loving and affectionate little lady."
Holly has run the City2Surf three times and this will be her second time running for Sydney Dogs and Cats Home.  "It's such a special event, with such a good vibe to it.  Raising money for the Home really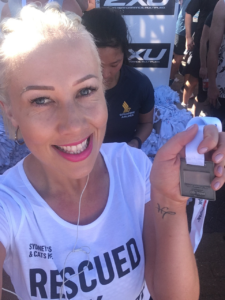 enhances the experience on the day, and it is really satisfying to see your fundraising bank increase; it gives you such purpose."
Holly continues, "I chose to run for the Home as I believe it's a wonderful and essential service for lost and abandoned animals – I can't imagine a cause more worthy!  It is also great to know that my funds raised will contribute to the new shelter.  Feedback from those who sponsored me also echoed what a great cause it is, and who doesn't love helping animals!?"
To sponsor Holly or to join one of the running teams click here.