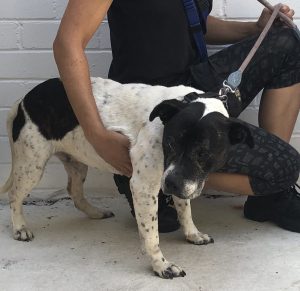 Chloe the staffy came into Sydney Dogs & Cats Home in February 2020. When she first came into the Home, Chloe was in a terrible condition and was very underweight and needed extensive medical care. For the next few months, Chloe underwent twice-daily eye drop medication application to relieve extreme discomfort caused by disease, and surgery to remove a painful mass on her paw which affected her ability to walk and play.
Chloe may be a familiar face; she was one of the faces of our 2020 Christmas campaign and helped raise over $100,000 for other pets in our care just like her. When Chloe was finally ready to find her forever home, Emily and her family came along.
As most adoption stories go, Emily and her family had been on the search for a small dog, but after seeing photos of Chloe online, they changed their mind. After sending an application on the SDCH website, Emily was invited in to meet Chloe who was immediately affectionate, straight away giving nuzzles and overall being the sweetest dog. Emily says, "we felt like Chloe was our dog."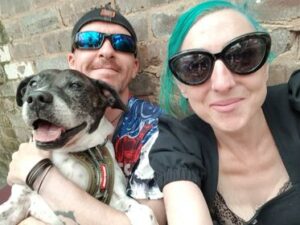 Chloe gradually settled into her new home, becoming more comfortable as the days went on and Emily says Chloe now runs the house. Some of Chloe's favourite things include playing with her stuffed toy monkeys (the first toy she was given was a monkey, and every toy since has been referred to as a monkey), playing with her kong and getting treats from it and greeting humans she meets on her twice daily walks.
Emily says adopting Chloe was the best decision she and her family have made and having a pet at home adds "incredible energy". Of the adoption process, Emily says it was an easy and informative process and the staff at SDCH were very communicative. Emily also shouted out Chloe's foster carer Rob; "he looked after her for months, saw her through surgeries and helped her gain weight. Thank you, Rob!"
If you are looking to welcome a pet into your home and add incredible energy as Chloe did for Emily and her family, you can view all our available pets here: https://sydneydogsandcatshome.org/adopt/
Published: 21/09/2022