Since 1946, Sydney Dogs and Cats Home has been providing refuge to lost and abandoned pets. In early 2015, we received the devastating news that our facility in Carlton was slated for redevelopment rendering the Home – homeless.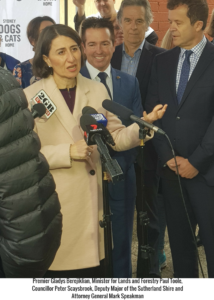 Thanks to the support of the State Government, this place of refuge now has a much brighter future, after securing a long term community lease at a site in the Sutherland Shire Council area of Kurnell.
It has been a long road to get us to where we are today and without the support of the State Government, and the greater community, we would not have been able to achieve this wonderful result. So a big thank you to all of our supporters from all of us, especially the many animals we care for each year.  The future of Sydney Dogs and Cats Home is now secured.
We look forward to building a state-of-the-art combined animal shelter and community facility, allowing us to continue our vital lifesaving service for many years to come and to increase all our community-based activities.  These programs include aged and disability care initiatives, a student reading program as well as a rehabilitation program in conjunction with the Australian Army which supports injured trainee soldiers.
Thanks to this positive progress, we look forward to continuing our partnerships and service to our current 8 local council areas of Sydney, providing their communities, with a best-practice pound services option.
Our focus, as it has always been, is to be a front runner in animal welfare practices and responsible reuniting and rehoming options for lost and abandoned pets. Through the nature of our work, we have also found that we can provide meaningful opportunities to support those people in the community that need it most.
The team has begun extensive research into best practice animal sheltering and community facilities both in Australia and Overseas, to ensure what we build today will stand the test of time and enable us to provide a world class service to the Greater Sydney area for many years come.
The Home, has received nearly $1.5 million in donations since announcing the need to relocate in 2015, that will go towards our initial $3 million target to start stage 1 of the build. With the ambitious target to raise over $8 million by 2020, we are now calling on the community to get behind their great work and make a tax deductible donation to the build of our new Home.