Rambo entered Sydney Dogs and Cats Home just two weeks ago.  A nine-year-old Maltese X, Rambo was found on the street in Allawah in a very sorry state.  He was underweight, his coat was full of burrs and extremely knotted restricting his movements and impairing his vision.  He had missing and rotting teeth and a massive build-up of tarter.  To make matters worse, poor little Rambo also suffered from a permanently dislocated knee cap on his right hind leg causing him further discomfort and a permanent limp.
Concerned for his welfare, our Vet Team quickly stepped into action giving Rambo a thorough examination to determine if there were any additional health issues or concerns.  Thankfully there were not and to alleviate his suffering the Team gave Rambo an anti-inflammatory to reduce his pain, clipped his coat completely and put him on Hill's Science Diet Youthful Vitality to help him gain weight and improve his overall condition.
Rambo has not been reclaimed by his owner, and our Vet Team would now like to give Rambo the surgery he needs including a major dental and an operation to fix his dislocated knee cap, greatly improving his qual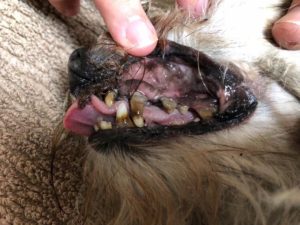 ity of life.
The vet treatment Rambo requires will cost approximately $2,500.  It is the funds raised through the Senior Pet Project that will help to cover the cost of Rambo's surgery.  By donating to the Senior Pet Project you will be helping senior pets like Rambo to get the much needed veterinary care they deserve.
Our goal is to raise $100,000 by 30 June in order to fund the Senior Pet Project for the next 12 months.  Donate now to support the Senior Pet Project and give a senior a new leash on life.
P.S.  Rambo (below) is already starting to look better, and please don't judge our Vet Team's grooming ability.