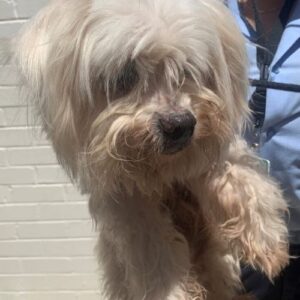 Mr Darcy the senior Maltese arrived at the Home as a stray with an affliction on almost every inch of his body. Immediately, our vet team noticed he was underweight with gunky eyes, dirty ears, chipped teeth and matted fur. To make things even more challenging for Mr Darcy, he also appeared to be hard of hearing and vision impaired. Despite this, he was a very friendly boy.
It was clear My Darcy needed a great deal of attention to give him a much-deserved second chance at a comfortable life, so our vet team set some appointments and sent samples to pathology to help diagnose and resolve Mr Darcy's long list of ailments.
These issues would have been causing Mr Darcy a great deal of pain, so our team got straight to work, administering anti-parasitic treatments, cleaning and clipping his fur and nails, flushing out his infected ears, doing a scale and polish on his few remaining teeth and prescribing medications to resolve his eye, ear, anal and skin conditions.
Scans and pathology results showed Mr Darcy suffered from:
chronic skin disease (dermatitis)
dry eye (inability to produce tears)
chronic otitis (long-lasting ear infection)
severe dental disease
active chronic inflammation of his anal glands
anaemia
papillomas on his face (benign warts caused by canine papillomavirus)
B1 Mitral Valve Disease (heart disease).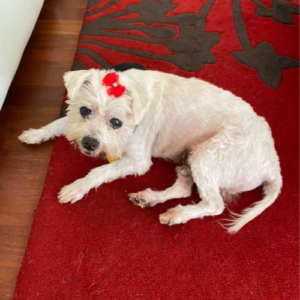 While in the Home's care, Mr Darcy was given a Hill's Science Diet consisting of wet food, which within a month had helped him gain much-needed weight, and recover from his anaemia.
Thanks to the help of his foster carer, who assisted with regular eye drops, ear medication, antibiotics and pain relief, Mr Darcy looked like new man just weeks after his arrival. While he still has some chronic conditions that sadly can't be completely resolved, with proper care, he's now enjoying a great quality of pain-free life. 
In foster care, Mr Darcy proved to be a very sweet dog with a love of food and human company, so combined with his friendly face and personality, he was a popular boy when he went up for adoption. But Mr Darcy also needed a very special home, with a very special family who could commit to monitoring and responding to his chronic health issues.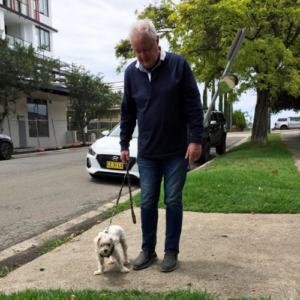 Luckily, it wasn't long before the right family came along. Mr Darcy was adopted in December 2020 as a bright and comfortable senior, completely unrecognisable from the dirty Maltese who had arrived just six weeks prior.
As Sydney's only charity pound and community facility, we rely on donations to give senior pets a second chance in life. Donate today to the Senior Pet Project to give pets like Mr Darcy the care and treatment they need to thrive in their twilight years.
---
ABOUT THE SENIOR PET PROJECT
In its third year, our Senior Pet Project was started as an initiative not only to put a spotlight on golden oldies to help with their rehoming, but also to raise the funds required for their much needed veterinary care and often prolonged stay at the Home.
With your support we are looking to raise $50,000 to help fund the Senior Pet Project in the months ahead, enabling us to give the seniors entering our care a new leash on life.