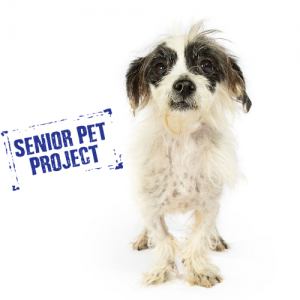 A little eight-year-old, black and white Maltese, Django arrived at Sydney Dogs and Cats Home in a state of neglect. He had alopecia resulting in extensive hair loss on his tail, hind legs and back, probably as a result of flea allergy dermatitis. His nails were severely overgrown and he had grade 4 dental disease resulting in pain, severe tartar build-up and periodontal disease.
Although he was desexed Tango was not microchipped and no one came forward to claim this old soul.
His teeth were in such poor condition (image right) that the team immediately provided pain relief and organised for Django to have an emergency dental surgery resulting in the extraction of multiple teeth.
He also enjoyed a much-needed groom and was given Simparica to protect him from future flea infestation.  The team also ran bloodwork to rule out any underlying illnesses.  Thankfully Django was healthy and given the all clear.
Thanks to the support of the community and generous individuals who donate to the Senior Pet Project, we can provide the older residents like Django with the essential veterinarian care they require.
A staff favourite Django spent his days behind the reception desk until he was adopted. Thankfully just the right person came along, so Django only stayed with us for 11 days.
Our goal is to raise $150,000 by 30 June in order to fund the Senior Pet Project for the next 12 months.  Donate now to support the Senior Pet Project and give a senior like Django a new leash on life.
---
ABOUT SENIOR PET PROJECT
Our Senior Pet Project, entering its second year, was started as an initiative not only to put a spotlight on these golden oldies to help with their rehoming, but also to raise the funds required for their much needed veterinary care and often prolonged stay at the Home.
With your support we are looking to raise $150,000 by 30 June to fund the Senior Pet Project for the next 12 months, enabling us to give the seniors entering our care a new leash on life.
Support the Senior Pet Project. Donate today.