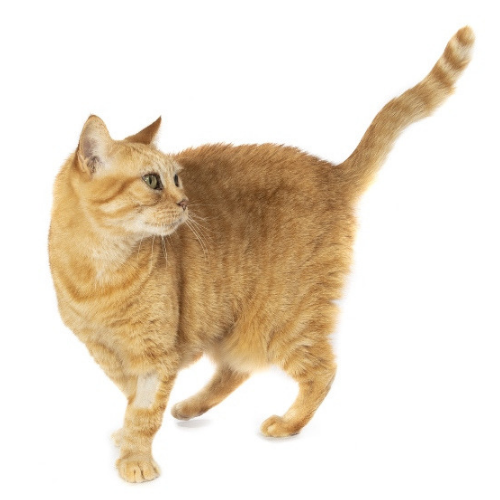 Beautiful Buddha, our slightly portly ginger senior, arrived at Sydney Dogs and Cats Home in February after being found wandering the streets as a stray.  Given her girth and the fact that she was desexed, we assumed she was owned.  However, Buddha wasn't wearing a collar with identification, nor was she microchipped, and sadly, no one came forward to reclaim this gentle old soul.
Aside from her sweet nature, Buddha's most distinguishing attribute was her cherry eye, a little pink mass protruding from her left eyelid.  Cherry eye occurs when the gland of the third eyelid prolapses.
With Buddha's hold period elapsing and no owner found to reclaim her, our vet team immediately organised a corrective surgery for Buddha's eye.
Thanks to the generous support of the community who donate to our Senior Pet Project initiative, Sydney Dogs and Cats Home can provide our senior pets like Buddha with the additional vet treatment they require.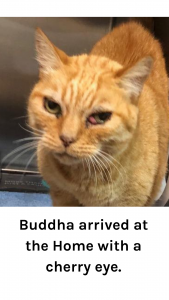 If left unattended and continuously exposed, cherry eyes can become painful, inflamed and irritated.  Also, if Buddha rubbed her eye, it could bleed and even become infected.
We are pleased to report that Buddha's surgery was a complete success and she's made a rapid recovery.  Now in our care for four months, Buddha is patiently waiting for a forever home.   This sweet girl who wants nothing more than to curl up in the sun or on your lap to get lots of pats.  For information on adopting Buddha, please drop into the shelter or email info@sydneydogsandcatshome.org
---
ABOUT SENIOR PET PROJECT
Our Senior Pet Project, entering its second year, was started as an initiative not only to put a spotlight on these golden oldies to help with their rehoming, but also to raise the funds required for their much needed veterinary care and often prolonged stay at the Home.
With your support we are looking to raise $150,000 by 30 June to fund the Senior Pet Project for the next 12 months, enabling us to give the seniors entering our care a new leash on life.
Support the Senior Pet Project. Donate today.