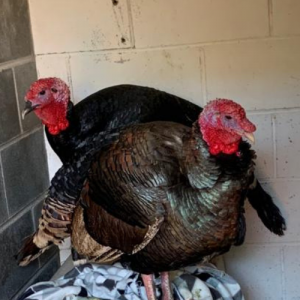 At Sydney Dogs and Cats Home, we can never be sure who the ranger will bring through our door. This month we welcomed two turkeys, Brad and Chad, who were found roaming in the Bayside Council area.
With no one coming forward to reclaim Brad and Chad, the team reached out to several rescue groups before finding one that could provide Brad and Chad with a suitable home. And thanks to our fantastic network of supporters, we were able to find a volunteer ready to make the three-hour drive to transfer the dynamic duo.
We are pleased to report that Brad and Chad are happily enjoying the green pastures of the Sunny Corner Farm Sanctuary and handing out with their new friends, pictured below.