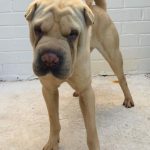 Goober was found in Marrickville Park in the Inner West Council area and brought into Sydney Dogs & Cats Home in early July. Sadly he wasn't microchipped nor was he wearing a collar. Surely, we thought, someone would be looking for this delightful Shar-Pei boy. However, despite our best efforts and a social media call-out, no one came forward to reclaim Goober.
It quickly became apparent to the team that Goober wasn't enjoying his time at the shelter despite our best efforts to make his stay comfortable. We reached out to our trusted network of foster carers and to local foster-based rescue to no avail. No one was able to take Goober into their home, providing him with a more comfortable environment than the shelter as he sat waiting to be adopted. And sadly no one showed interest in adopting Goober providing him with a forever home.
Finally, after weeks of searching for a positive solution for our boy Goober, we identified a Shar-Pei rescue in Queensland who was able to take him into their foster-based network. However, before we sent Goober off, we needed to ensure we'd done our best to set this boy up for success. As is typical of the Shar-Peis entering our care, Goober was suffering from Entropion. A painful eye condition where the eyelids fold inwards, Entropion results in the lashes continuously rubbing against the cornea of the eye and which left untreated can lead to blindness.
Therefore before sending our boy off, we organised and funded, thanks to our donors' support, Goober's necessary corrective eye surgery and desexing.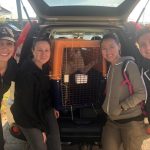 Following a successful surgery, Goober returned to the shelter to recover from his procedures. And ten days later, after spending a total of 53 days in our care, we were able to purchase Goober transport on a flight from Sydney to Brisbane and into the welcoming arms of Shar-Pei Rescue.
It is not uncommon for dogs to struggle in the shelter environment like Goober. Therefore we are always looking to expand our capacity to care through our foster-based network. If you think you could offer a shelter dog a temporary home while they wait to be adopted, please click here to learn more about becoming a Sydney Dogs & Cats Home foster carer.