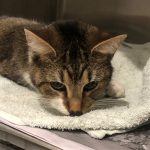 A sweet little cat, who we named Alicia, recently arrived on our doorstep. She came into our care in a terrible state, after being found badly injured on the ground floor of a 13-story apartment block. We assume she had fallen off a balcony.
Seeing she was injured, the resident who found her contacted the local council ranger who quickly brought her into SDCH. Upon her arrival, we organised X-rays which revealed that this still affectionate ball of fluff, had a shattered front leg and a broken jaw.
The team immediately put her on pain relief and organised a surgery to save this girl's life. Due to the severity of her injuries, Alicia's front leg had to be amputated, and her jaw was wired to help the bones align and support the healing process. 
With an estimated cost of her surgery coming to $1,100, our team put up flyers in the apartment block where Alicia was found in the hope of tracking down her owner. Sadly no one came forward to claim this girl. However, thanks to the generous support of our community, we were able to raise the necessary funds required to cover the cost of Alicia's essential surgery.
Following a successful operation, Alicia was immediately placed into foster care with one of our volunteers. In her foster home, Alicia was given round the clock post-operative care and monitored closely. Truly on the road to recovery, Alicia's stitches have now been removed from the site of her leg amputation. In a few weeks, she'll be returning to the vet again to have the wiring from her jaw removed.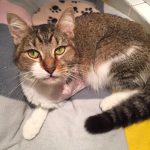 According to her foster mum, Alicia purred the entire time while at the vets having her stitches removed. An affectionate smoochy girl even with all the trauma she has experienced, Alicia is now ready to find her forever home. If you are interested in adopting Alicia, please contact the team via the enquiry button on her profile page here.