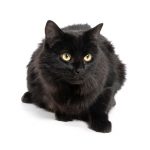 Three-year-old Zorro arrived at the Home in mid-June.  Although he was microchipped and desexed, we were sadly unable to find this sweet boy's owner, and no one came forward to claim him.
While in care, the team observed that Zorro was exhibiting signs of Feline Lower Urinary Tract Disease (FLUTD). This beautiful, smoochy boy was having difficulty urinating. He would pass frequent small amounts of urine, which were tainted with blood.
FLUTD is a painful and uncomfortable condition. It can also be life-threatening requiring emergency veterinary intervention if the urinary tract becomes blocked.
Thankfully Zorro was safe with us.  Our veterinary team put together a treatment plan for Zorro, which included a special diet of Hills Prescription Diet c/d Urinary Care, pain relief, anti-inflammatory tablets as well as muscle relaxants.  A secondary plan that including blood and urine cultures, X-rays and potential surgery, was also developed should Zorro not respond to the preliminary treatment.  Fortunately, Zorro responded to the initial protocol set up by the vet team and a more invasive investigation/surgery was not required.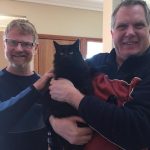 And the best news of all our handsome, swashbuckling feline after spending eight weeks in our care and under careful observation is now in his very own forever home -  fairy tale ending for our Zorro.