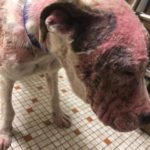 The 19th October 2019 marked the one year anniversary of Dorothy's arrival at Sydney Dogs and Cats Home. Abandoned at a veterinary practice and brought into the Home by the council ranger, Dorothy was in terrible condition.
Estimated to be a six-month-old pup, Dorothy had a serious case of demodectic mange and a terrible skin infection. She was also extremely underweight. Having lost almost her entire coat of fur, nearly every centimetre of her body was red raw, inflamed and covered in scabs, and there was a strong odour emanating from her infected skin.
Thanks to the care and dedication of the team at SDCH, Dorothy made a full recovery, but sadly more than 12 months on Dorothy still has not found her forever home.
As a member of the Getting 2 Zero movement, SDCH doesn't place a time limit on any animal awaiting adoption.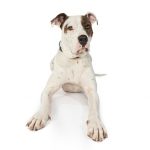 Whilst in the Home's care Dorothy has been adopted and returned twice. She is currently residing in a foster care home, where SDCH still provides her and her foster care family with support in terms of behavioural consultations, veterinary treatment, and the provision of Hills Prescription Diet Zd Skin and Food Sensitivities dog food.
If you'd like to learn more about Dorothy please check out her full profile here.  Or if you think you can offer our beautiful girl Dorothy a forever home please contact the team on 9587 9611 or email info@sydneydogsandcatshome.org