Do you want to be a pet owner, yet are unable to make the long term and financial commitment that goes along with the responsibility of bringing home a furry friend?
Sydney Dogs and Cats Home's Foster Care Program is a key project which provides people with the opportunity to enjoy the wonderful aspects of having a pet on a temporary basis, whilst providing animals a loving short-term home.
Foster carers are called upon when an animal at SDCH is in need of extra care and attention due to their age or health related issues.
With the warmer months approaching, it is coming up to prime cat breeding season, so SDCH is expecting to see an influx of kittens and young cats being brought in to the shelter. In order to maintain space for other animals coming in to the shelter and to support the health and wellbeing of the kittens, SDCH is calling out for responsible foster carers to come on board.
Grace Ireland became a foster carer after her own cat of 17 years passed away. "I couldn't commit to adopting a new cat so soon, so fostering was a perfect option!"
Grace did worry, at first, about becoming too attached, however she realised that her support as a foster carer would be making a wonderful contribution to making sure animals were in a loving home and that they were receiving "plenty of cuddles".
Grace has since fostered 8 kittens, "It's been such a delight meeting each of their individual personalities." Grace says that each cat reacts differently to being in a new environment when they first arrive, with some making themselves right at home, while others are a little more timid. Yet, by the end of their time in her care, they're much more confident. "Seeing how social and cuddly those cats are after just a couple weeks in a loving home brings such a sense of accomplishment."
SDCH is also looking for foster carers with spacious homes to take in large dogs in order to provide the pooches with the additional space they require for plenty of exercise and enrichment.
Ashleigh Dare has been a foster carer of dogs for approximately two years and has found the experience to be one of the most reward
ing decisions she and her family have made.
"It satisfies the void, the ever-present need to cuddle and snuggle puppers, but it is in no way all about that. It takes more than oodles of cuddles, but time, patience, and sometimes a strong stomach! We've fostered shy puppies, sick puppies, healthy puppies, and tiny puppies with huge personalities (Wilbur, I'm talking about you!), and have been able to give each and every puppy exactly what they need to grow and break out of their shells, and this counts for seniors pups too!"
Ashleigh has also found that the love and support from her own dogs plays a part in caring for foster dogs. "It can be heartbreaking to learn the rough cards that some of these fluff babies have been dealt at the start of their life, when they should be shown love and attention, but that is where you as a foster carer steps in. You take on the role of their caretaker when they so desperately need it. It also helps that our own dogs have acted as mother/big-brother figures and helped to teach them important doggy manners, like when they nibble just a bit too hard!"
And while both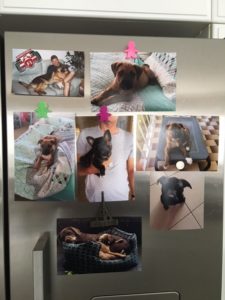 Grace and Ashleigh do find saying goodbye difficult and quite emotional at times, they wouldn't change a thing.
"There's no greater feeling than hearing your foster kitty has been adopted from SDCH," says Grace. "I had the pleasure of meeting the family who adopted my previous foster twin kittens and they were so lovely and thrilled to have the kittens in their family. It absolutely melted my heart, and it makes you realise how much you're helping the cats out during that transition period."
Ashleigh says, "Unless you have fallen head over heels in love with your foster and decide to kee
p them, it can be difficult to give them back. However, it is a comfort knowing that they are going to be loved just as much by another family, and you have helped prepare them for that. Foster caring is a warming, fulfilling, and rewarding experience. If you find that you have a little bit of space in your home and a bit of spare time on your hands, opening your heart and your home to an animal that needs it will be one of the best things you ever decide to do (p.s., it has definitely become a bit of an addiction!)"
If you would like to join the Foster Care Program, please find further details and application forms here.

Published 19 September 2017