After going to visit 200 Corellas, Tracy had just about given up finding her beloved pet, Relly.
"It was heartbreaking," says Tracy, "My hopes were raised every time I received a tip off about a Corella at a rescue centre, so the let down when I arrived to find it was not Relly was just horrible."
In February 2014, Tracy popped out to pick her children up from school. Relly had been a bit cheeky to the kids earlier in the day, so Tracy made the decision to leave her at home. Sadly, she came back to find someone had deliberately broken the padlock to the aviary and had stolen Relly.
Tracy was devastated and began doing everything she could to look for Relly, putting up posters, contacting rescue centres and vet clinics, and following up every lead she received.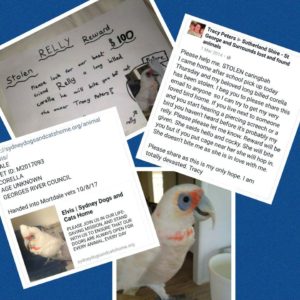 Although Tracy loved the other birds and pets she had during the time Relly was gone, she did not feel that same inseparable bond. "Relly has a special way of getting on and off my arm – she crawls up and down my side, rather than fly. She's only ever done that with me", says Tracy.
3 years on, Tracy received a call from Evelyn, a local rescue volunteer, to say there was a Corella which had been handed in to the Sydney Dogs and Cats Home. It had come in from Mortdale Greencross Vets after being found by a Georges River Council ranger.
Unsure if she could handle any more heartache, Tracy thought twice about visiting SDCH. She arrived preparing herself for disappointment, however when the Corella said, "Hello" and crawled up on to Tracy in that all too familiar manner, it was no mistaking that this was Tracy's treasured Relly.
It's all still sinking in for Tracy. "It's unbelievable.  It is the most surreal experience to have her home and I keep wondering if it is really is Relly. There's no doubt though as she flew straight to her favourite corner lounge in the house and has been throwing about pegs and making lots of noise as she has always done to make sure she's the centre of attention."
We never get tired of reunions at Sydney Dogs and Cats Home and it's thanks to our supporters that we are able to continue to bring families and their beloved pets back together. Make a donation today to help us keep these stories coming!