Georgia the Bulldog is a sweet little peach who came to the Home a little worse for wear. She arrived in June with blood on the tip of her nose, scabs all over her head, runny eyes and suspicious masses on her ears. It was clear Georgia needed immediate vet care from our Animal Care Team.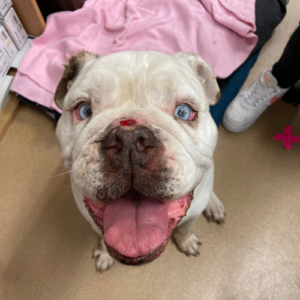 Our vets gave Georgia a thorough health check, but she didn't make it easy! Georgia is one of those dogs who loves everything and everyone and was very friendly and cheeky, trying to play with the vets as they examined her.  Our vets discovered there was a lot more to Georgia's health concerns that met the eye. Georgia had had discharge and inflammation in her ears and her remaining teeth required a thorough clean. She also had overgrown nails and seemed to have difficulty walking, lying down and getting up. Our vet team booked Georgia in for a much-needed dental scale and polish, radiograph for her hips, biopsies of her skin masses, ear flush and full spa treatment with a manicure and pedicure (nail trimming).
Last week, Georgia had her big surgeries and tests, which resolved her ear inflammation and dental concerns. Her nails are now picture-perfect, making it much easier to get around. Unfortunately, Georgia's tests revealed she has a few more health hurdles including hip dysplasia, a common abnormal development or growth of the hip joints, especially among larger dogs like Georgia. She also has a degenerative condition of the spine that usually occurs in older dogs and ear masses are a symptom of a rare chronic inflammatory skin condition. While these conditions can't be cured, Georgia is now on a series of treatments that will keep her comfy and content in her adopted home.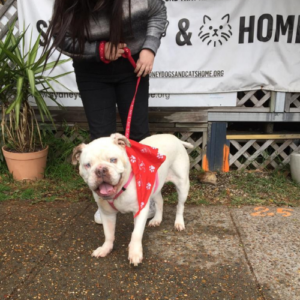 It was no surprise that Georgia would be adopted quickly as she is the perfect angel towards humans and other animals, loves to play with toys and also loves sleeping. Going on walks, not so much! Georgia was adopted shortly before her major surgeries and had a loving home where she could rest and recover. Our Animal Care Team have been working with Georgia's new owner to ensure she is recovering well from her surgeries and receiving proper treatment so she can continue to live her best couch potato life!
The support we receive from our community is vital to all animals that come to the Home. Without your support, we wouldn't be able to help darling dogs like Georgia become health and happy companions. As we're a charity, we rely on donations to provide tests and treatments like radiographs, biopsies and ear flushes. Please consider making a donation today by visiting: https://sydneydogsandcatshome.org/donate/
Published 21 July 2021