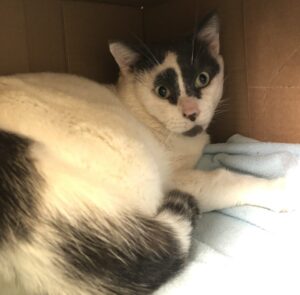 King was one of the Home's longest-standing feline residents, spending nine months in our care before finding his forever home in March this year.
For a very long time, King was a crabby kitty and didn't want anything to do with humans. He'd come from a colony where he clearly had minimal human interaction. He spent a few months in the cattery at the Home getting used to the sights and sounds, hiding away in his boxes. Month by month he would gain a little confidence and eventually he started to explore the cattery. Four months on, he was accepting pats from his favourite people. Everyone else would receive his 'boxer paws'. It wasn't long before he learned to play. He particularly loved using his boxing skills on wand toys.
Almost nine months into his stay and King ruled the cattery. He knew what he liked, what he didn't, and especially what he loved – food. We had never seen such an insatiable cat. Our Animal Care Team had to 'King proof' the food containers and put him on a special diet. King wasn't receiving much interest when visitors met him in the cattery. He tended to be aloof with new people and has Feline Immunodeficiency Virus (FIV). While cats with FIV often live long and healthy lives, they sometimes have difficulty finding a family willing to monitor potential symptoms associated with their weakened immunity.
To give King a taste of home life, the Animal Care Team decided to send King into a foster home. He went home with one of our office staff Laura, who noticed swift changes in his behaviour: "For the first few days he wouldn't come out from under the furniture and I was worried he'd regressed. My partner and I used food to coax him out for short periods, which worked a treat. Within two weeks he transformed from a shy, angry kitty who 'King hit' us when we tried to touch him to an affectionate, confident companion who actually enjoyed our company."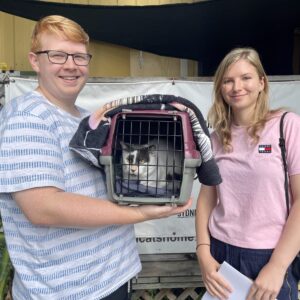 Shortly after King went into foster care, the Home received an unexpected application from Yvetta, who was interested in adopting King. We organised for Yvetta to meet King via Facetime and she decided instantly he was the right fit for her home. "He sounded like a bit of a challenge. He also looked cute yet serious," Yvetta said. 
"For the first few weeks, King was very timid. Even after he got more used to the place he seemed to be quite scared of us. But now he's much more comfortable, friendly and playful, and a lot more receptive to pats. King likes my housemate more than me. I put this down to my roommate being soft and feeding him more… Other than eating, King really enjoys playing with us. Although he mostly ignores the toys we've got him and prefers just a piece of string. He also loves to lie in the morning sun that shines through our lounge room window. "
King is one of the many furry reasons why the Home supports the Getting to Zero movement and never places a time limit on any animal awaiting adoption – so we can achieve amazing outcomes for pets like King! 
Published 22 July 2021