Senior sweetheart Poppy (previously Geranium) is a Maltese x Shih Tzu who came to the Home in April with concerning lumps and bumps under the skin of her abdomen, severe dental disease, sensitive ears and a nasty eye ulcer. Despite her obvious discomfort, Poppy was the most lively 12-year-old around, looking for as many pats as she could get her paws in, as long as we didn't touch her sore eye. Poppy was immediately put on medication for her ulcer and booked into surgery to investigate her mammary masses and resolve her dental disease. Her teeth were in such bad shape that one of her molars fell out during her stay at the Home. Poppy received a nice payday from the tooth fairy for that one – lots of soft tasty treats.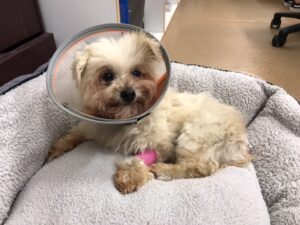 Poppy spent a few weeks in a comfy foster home while her eye ulcer resolved. Within two weeks, it had cleared and the swelling had resolved. Her eyes were crystal clear. When Poppy's surgery day came around, there was a big sense of relief across the Home. All her masses turned out to be harmless and were removed with ease. She had dental surgery to clean up her remaining teeth, and now she has the most adorable tongue-y smile.
As a senior dog, Poppy was at the Home for a while before she was adopted, strutting around town in her signature bumblebee harness. Even for cuties like her who are spirited and lively, senior dogs often find themselves in shelters for extended periods as they often require extra veterinary care and face challenges finding a suitable home willing to provide love, care and ongoing monitoring and treatment. That's why we run the Senior Pet Project appeal to raise much-needed awareness and funds for the senior pets that come through our doors.*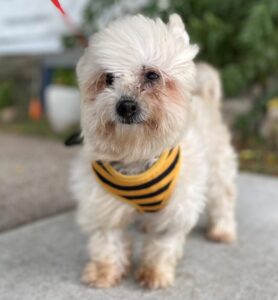 Lucky for Poppy, a lovely couple who last year had lost their previous dog, adopted Poppy pre-surgery, without knowing the nature of her mammary lumps. They took a chance on Poppy, committing to caring for her no matter the outcome. Poppy now has a comfy spot on the couch at her new home where she will enjoy the rest of her days, with a family who bonded with her instantly. Her new mum told us, "it's as if she has lived with us all her life."
*If you'd like to provide pets like Poppy with essential vet care in their senior years, donate to the Senior Pet Project today.
Published 21 July 2021