At first glance, Huckleberry looks a little rough and scary, but this distinguished gentleman is anything but! Huckleberry came to Sydney Dogs & Cats Home early September malnourished with patches of missing fur and scabs and lesions on his skin. After a vet check, we discovered his teeth were in bad shape, making it difficult for him to groom himself, and he was positive for Feline Immunodeficiency Virus (FIV).
Huckleberry reminded the SDCH team of a recent resident Trifle, whose similarities were freakishly alike – strong but sweet personalities, similar boofy appearance and almost identical health concerns. Despite his health challenges, Trifle found a home within weeks of his availability, so we have high hopes for Huckleberry. He's a very special boy!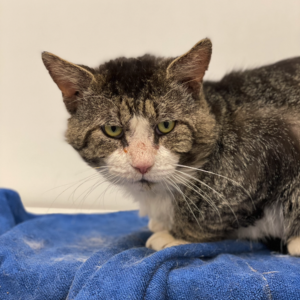 Huckleberry recently had dental surgery including teeth removal, and he is now far more comfortable and even sticks out his tongue – making him look even more handsome. Now that his teeth are sorted, he's enjoying getting back to grooming and making his fur nice and healthy.
When Huckleberry first came to the Home, he was quite shy and made sure you knew when he was displeased with a little hiss and a paw-raise. He has been given a special spot in reception so he can get used to people. Huckleberry is now dishing out some solid headbutts, has become smoochie and social and has recently discovered the joys of playtime! As soon as our staff open his pod, he's straight away at the front to say hello and enjoy a brushing.
Huckleberry is currently recovering from his dental surgery with the help of his Hill's Pet Nutrition adult wet food, which is soft on his gums and helps him gain much-needed weight. His scabs and lesions have been healing well and don't seem to be an issue. He is looking for a new home he can rule, where he can lazily watch the days go by and enjoy his humans' company.
If you think Huckleberry is the cat for you, send an enquiry via his adoption profile.
Published 29 October 2021