After raising $500 for Sydney Dogs & Cats Home in 2020 through Return & Earn and community donations, 13-year-old Vaughn hoped to double his fundraising efforts in 2021 to $1,000. Thanks to the ongoing support of friends, family and the South Sydney community, Vaughn was shocked to raise a total of $2,000.10 for Sydney's lost and abandoned pets between February and October this year.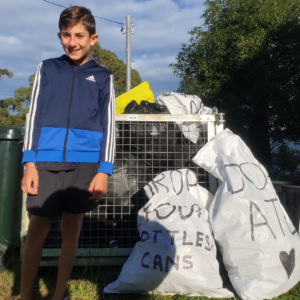 Last year Vaughn's fundraising drive earned the attention of local media and public figures who labelled him a 'local legend', so many local businesses and neighbours were keen to chip in to help him reach his 2021 target. In total, Vaughn collected $789.90 in monetary donations and 10,101 recyclable drink containers. When returned at Reverse Vending Machines for 10c per container, this raised an additional $1,210.20!
Vaughn told us he's grateful for his friends, family, businesses and local government who helped make his fundraiser such a success.
"Bunnings donated two bins and my sister and friends did a letterbox drop," he said.
"The man who owns my local IGA donated $500 which was amazing! My local MP Mark Coure kept advertising my fundraiser and my mum's friend Sophie Cotsis MP also came and donated. We had both sides of government supporting me."
Vaughn's friends and family helped him spread awareness and collect bottles, with his Uncle Pete and cousins 'the biggest heroes', transporting containers in their ute to Reverse Vending Machines. Vaughn also wants to acknowledge his amazing friends who donated drink containers, including Aaron, Alana, Anthony, Charlie, Archie, Victoria, John, Arthur, Noah, Sarah and Matthew.
While Covid tried to put a dampener on Vaughn's collection efforts, closing Return & Earn Reverse Vending Machines across Sydney, Vaughn's fundraiser persisted throughout lockdown. Vaughn extended the deadline to mid-October, and thanks to all his previous promotions around the community, bottles and cans continued to accumulate on his family's front yard.
Vaughn said one of the highlights of this year's fundraiser was getting to know more people, especially his neighbours.
Previously Vaughn had hoped to double his fundraising goal each year, but having smashed this year's target, he's got a new plan: "I don't want to have a goal next year; I just want to see how much we raise."
Vaughn's 2021 fundraiser is another enormous effort from Vaughn, whose fundraising will go towards the continual efforts of taking care of Sydney's lost, abandoned and neglected pets.
Published 29 October 2021