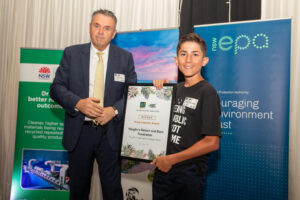 After raising a collective $2500 for Sydney Dogs & Cats Home in 2020 and 2021 through the Return & Earn container recycling scheme, 13-year-old Vaughn Arambatzis was named a 'local legend' by local media and public figures for his outstanding fundraising efforts. But now that title has come true with Vaughn being awarded the Keep Australia Beautiful Young Legend's Award.
Vaughn's family, friends, the local South Sydney community and local businesses have helped spread awareness of the fundraiser, collected bottles, donated bins, and helped transport containers to Reverse Vending Machines. Vaughn was able to recycle 15,000 containers over the last two years with 12,000 containers collected in 2021 alone.
Covid lockdowns didn't slow Vaughn's collection efforts down at all. While Return & Earn Vending Machines and depots remained closed during Sydney's 2021 lockdown, Vaughn extended his collection deadline and bottles and cans continued to accumulate in his family's front yard, allowing him to smash his original goal of $1000 and instead, impressively raising a total of $2000.10 for Sydney Dogs & Cats Home.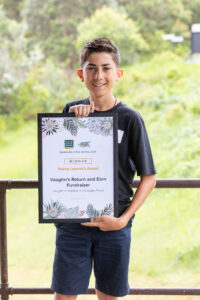 When asked what winning the award meant to him, Vaughn said; "It means a lot because it's a big award. Winning the award gives Sydney Dogs & Cats Home recognition and that might encourage people to donate more money. I hope it also encourages more people to use Return and Earn and to recycle."
Vaughn's win of the Young Legend Award has motivated him to set his sights on expanding his recycling and fundraising efforts with the hopes of working with the Georges River Council. Vaughn also has plans to expand his container collection efforts and hopes the local community and local businesses will sponsor him so he can utilise the Return & Earn purple bin service. Vaughn says his other goal for 2022 is "to try and raise as much as I can."
If you are interested in donating your Return & Earn refund to Sydney Dogs & Cats Home, you can do so through the MyTOMRA app before returning your containers at a Reverse Vending Machine. 100% of the refund will be transferred to Sydney Dogs & Cats Home and will assist in the continued efforts to rehabilitate and reunite Sydney's lost and abandoned pets. You can also keep up with Vaughn's recycling and fundraising efforts by visiting www.instagram.com/vaughnsfundraiser.
Published 2 February 2022