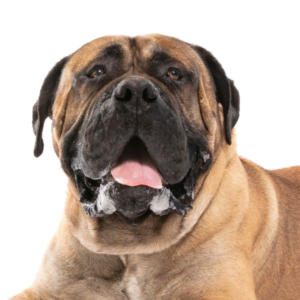 Gentle giant Six came into the shelter as a lost dog with his Rottweiler buddy Rocco last October. While Rocco found a new home, Six remained at the shelter and won over the hearts of the staff and volunteers with his slobbery smile and friendly and loving personality.
Six presented to the Home with several issues including mild dental disease and bilateral entropion, an abnormality causing the eyelid to roll inwards causing pain and discomfort, and when not treated can cause corneal damage and interfere with vision. Six also experiences issues that are consistent with his large breed. Being a Boerboel, a mastiff-type dog from South Africa, Six weighed in at 72kgs.  He had a mild case of happy tail, an issue where the tail will repeatedly hit a solid object resulting in the skin splitting open and he also had a severe generalised joint disease related to arthritis and degeneration of his joints, a consequence of his large breed.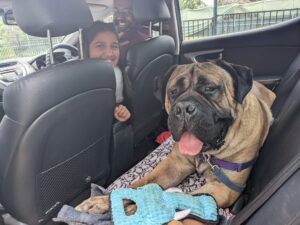 The Animal Care Team performed surgery on Six to correct his entropion and happy tail as well as a clean and scale of his dental disease. Six recovered nicely from surgery with some rest at the Home and receiving pats and hugs from the staff and volunteers. Six has also been placed on lifelong medication to manage his joint disease. While Six is only 4 years old, his joint issues mean he presents more closely to a senior dog and requires the right person to take on a special dog such as Six.
After 104 days in the Home, Six finally found his forever home with a family that will spend the rest of his days spoiling him and showering him with love, all the while being showered in Six's slobbery kisses. We captured the sweet moment Six finally left the Home, click here and share it with your friends and family.
Published 1 February 2022