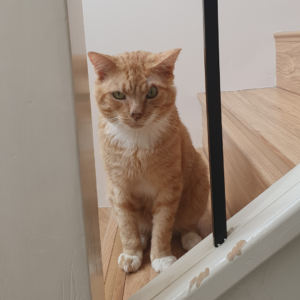 When Trifle came to the Home last year after a life on the streets our Animal Care Team ensured that Trifle was his best self to find a new home. Trifle had tested positive for Feline Immunodeficiency Virus (FIV), had a nasty scar on his left eye and had a number of dental concerns. After much-needed surgery to extract his canine teeth and receive treatment for FIV, Trifle was a new man and was now able to groom himself properly and enjoy his food.
Trifle was known around the Home for his strong headbutts, his love for food and his impressive growth from a fearful street cat to a friendly cat full of personality and a face you could never forget. This was also true for Ailin and Dom who adopted Trifle and gave him the loving and safe home he deserved. Ailin says the deciding factor to adopting Trifle was "he looked like he had a ton of character and we loved that about him!"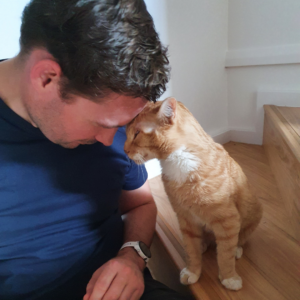 It took Trifle some time to settle into his new home, but now Ailin says Trifle has become confident enough to explore around the house but prefers to remain in his oasis upstairs where he spends most of his day sleeping. "He likes the humans to visit him from the afternoon onwards for headbutts and pats but prefers to keep his mornings free for eating and sleeping."
Trifle is definitely living the life he deserves and is being spoilt on the occasion with his favourite food, chicken! Ailin says that adopting Trifle has been an extremely rewarding experience, especially now that he has grown to love his new family and life.
Published 1 February 2022