Stewy was one of the most anxious dogs our animal attendants had ever met. He was terrified of every noise and movement. When people came to see him in his kennel he'd freeze and stare or hide in his crate. He refused to leave the driveway to go for a walk.
It's not clear what happened in Stewy's past to make him so anxious, but when he came into our care in October 2020, our team was determined to transform his future.
Our animal attendants worked with Stewy every day to earn his trust, keeping him company in his kennel and giving him treats when he was brave and accepted a pat or came onto the street.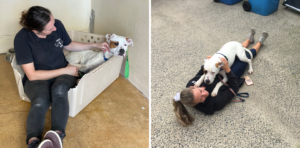 Progress was slow, but over time, Stewy formed bonds with animal attendants and volunteers and started showing his affectionate side, cuddling with them and jumping in excitement when they came to say hello. He started coming into the courtyard every afternoon for playtime and went home with staff on the weekends.
Once Stewy was confident with select people, we introduced him to a friendly dog and discovered he loves canine company. We paired him with other dog residents to play, and occasionally, they would encourage him to go for a walk. 
We saw huge improvements in Stewy, but after three months in our care, it was clear he wasn't suited to the shelter environment and needed to find a home away from the hustle and bustle of city life.
We contacted Dunroamin Animal Rescue in southern NSW who have previously rehomed some of our dogs who need a country home. They had a space ready for Stewy with one of their foster carers.
SDCH animal attendant Natalie, who had formed a close bond with Stewy, drove him five hours south, where Dunroamin picked him up for his new life. Natalie said, "there were some tears shed!"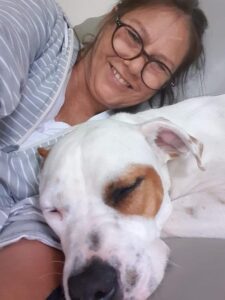 Stewy went into a foster home with Dianna where progress was slow. There were sleepless nights, but Dianna never once gave up on Stewy. After hearing about how he responded to other canines, she borrowed a friend's dog and we're told that worked a treat on his confidence.
But Stewy's new doggy friend couldn't stay forever, so Dunroamin sent one of their dogs into foster with Stewy and he's thrilled with his new friend.
Not long ago, Dianna adopted Stewy! Stewy may never be a dog who is confident in a busy setting, but with his new understanding and patient owner, we're confident he's going to have a very comfortable life!