Eight-year-old Jellico has done a lot of moving around this past year. His owners had moved and passed him onto family in Armidale, but unfortunately it turned out one of his new humans was very allergic to cats. This didn't work very well for Jellico as he likes to get up close and personal with his people.
Jellico's new owners wanted to do the right thing and find a rescue who could put him in a forever home. Unfortunately, at the time, no one could take him in. Jellico's owners waited several months before finding a local rescue, who was then able to transfer him to us for rehoming when a space opened up at our shelter. We drove to Armidale to collect him.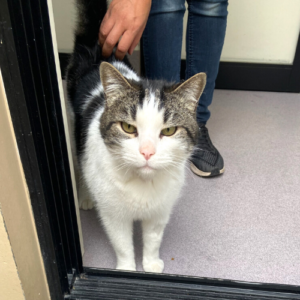 Jellico was one of the lucky ones – he didn't require any surgery. He was already desexed and otherwise looked healthy. Because he was an older cat, our vet team checked his blood – and lucky they did. We discovered he had mild anaemia.
The team did a faecal test and started him on a worming treatment to see if parasites were causing his anaemia. Following this treatment, Jellico's anaemia began to improve, returning to normal levels, and he was finally ready for his forever home.
Jellico is an affectionate, cuddly boy, but as a senior, it took him a little while to find a new family. Luckily, one month after his arrival, a very eager adopter came along and scooped him off his fluffy feet.
As Sydney's only charity pound and community facility, we rely on donations to give senior pets a second chance in life. Donate today to the Senior Pet Project to give pets like Jellico the care and treatment they need to thrive in their twilight years.
---
ABOUT THE SENIOR PET PROJECT
In its second year, our Senior Pet Project was started as an initiative not only to put a spotlight on golden oldies to help with their rehoming, but also to raise the funds required for their much needed veterinary care and often prolonged stay at the Home.
With your support we are looking to raise $50,000 to help fund the Senior Pet Project in the months ahead, enabling us to give the seniors entering our care a new leash on life.