12-year-old Finbar looked worse for wear when he was brought to the Home by a council ranger in June. He had lumps growing in strange places, sore knees, a loose claw, excess weight and hadn't seen the dentist in a while. Luckily, he'd come to the right place.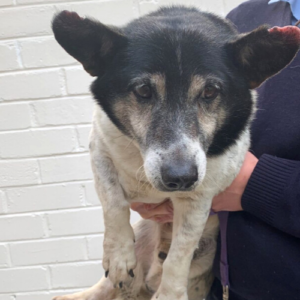 After thorough examinations by our vet team, including x-rays and lab tests, Finbar was found to have osteoarthritis of both knees, a benign testicular tumour, a benign rectum mass, umbilical hernia and mild dental disease. This unpleasant combination of ailments made life very uncomfortable for Finbar, so our vet team quickly got to work to get him ready for the retirement he deserves.
Finbar's treatment started with dental surgery, claw removal and a weight loss plan. His testicular tumour was removed during his desexing appointment, which should also reduce his hormone levels and resolve the mass in his rectum. Just to make sure it settles though, his wonderful adopter has committed to monitoring the mass.
Finbar seemed to be doing okay with his umbilical hernia, which causes fat to protrude through the muscle wall, but there was still a small risk organs like intestines could herniate as well. This wasn't a risk we were willing to take, so surgery was performed to repair the hernia and Finbar recovered with ease.
While we discovered Finbar's joint condition was too advanced for surgery, our vet team determined it can be managed with ongoing anti-inflammatories and joint supplements that allow him to move comfortably. Within days of this treatment being prescribed, his foster carer noted he was very comfortable and was so excited by walks he would jump up and down in anticipation for the lead.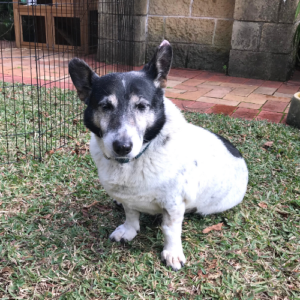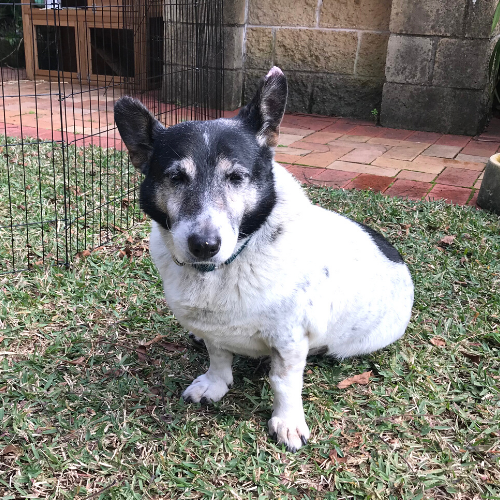 Finbar was really fortunate to have a comfy foster home where he could recover from his procedures, but he wasn't there for long! Shortly after Finbar was ready for adoption, he was swept up by his new mum Claudia.
Claudia told us he's fit really well into her home, where he's a much loved member of the family. He loves being with his humans, who are doing a great job managing his health. He's still going for vet checks and is continuing on pain medication so he can enjoy his daily walks without any pain. It sounds like he's doing really well!
As Sydney's only charity pound and community facility, we rely on donations to give senior pets a second chance in life. Donate today to the Senior Pet Project to give pets like Finbar the care and treatment they need to thrive in their twilight years.
---
ABOUT THE SENIOR PET PROJECT
In its second year, our Senior Pet Project was started as an initiative not only to put a spotlight on golden oldies to help with their rehoming, but also to raise the funds required for their much needed veterinary care and often prolonged stay at the Home.
With your support we are looking to raise $50,000 to help fund the Senior Pet Project in the months ahead, enabling us to give the seniors entering our care a new leash on life.