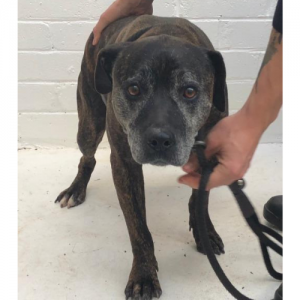 At the age of 9 years and 7 months, this sweet gentle lady, who we named Arlo, found herself at Sydney Dogs and Cats Home.  Arlo had escaped her owner's care and was found and brought into the Home by a council ranger.  The team was eventually able to contact Arlo's owner but sadly her owner had fallen on difficult times financially and was struggling to find suitable accommodation for them.  Additionally, Arlo was suffering from a degenerative joint disease, evident by a slight limp in her walk, and she would need ongoing veterinary care and treatment.  Arlo's owner made the decision to not reclaim Arlo but to leave her in our care.
Every year more than 10% of the animals entering the Home are in their twilight years like Arlo, and sadly these pets are less likely to be reclaimed than the younger counterparts.  And like Arlo the seniors typically need additional veterinary care.  In Arlo's case the team began a course of treatment for Arlo's osteoarthritis designed to improve the cartilage in her joint.
Our Senior Pet Project, entering its second year, was started as an initiative not only to put a spotlight on these golden oldies to help with their rehoming, but also to raise the funds required for their much needed veterinary care and often prolonged stay at the Home.
Not surprisingly, the majority of senior cases do require extra veterinary treatment. This additional cost may be the reason why many owners choose not to reclaim their senior pets. Seniors also tend to have a longer stay in the shelter or foster care whilst we search for a suitable home, and in some cases that one in a million person willing to provide love and palliative care in a pet's final months, weeks or even days.
With your support we are looking to raise $150,000 by 30 June to fund the Senior Pet Project for the next 12 months, enabling us to provide the seniors with the much-needed care to set them up for success in their twilight years, just like Arlo.
Fortunately Arlo, now known as Chance, spent only 4 weeks in the Home before finding her humans – Adam and Natalie Goodes, who have become ambassadors for Sydney Dogs and Cats Home's Senior Pet Project promoting the benefits of adopting a senior pet.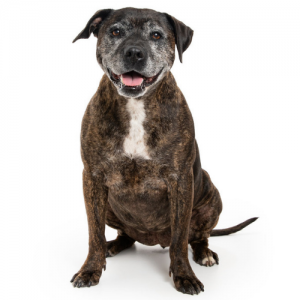 Adam Goodes, former professional AFL player, owner of Chance and Senior Pet Project ambassador said: "We always knew we wanted to adopt a senior pet, giving them a loving and caring home for their golden years. We met our little lady at Sydney Dogs and Cats Home, after a team member suggested we take her out on a walk. The rest is history and she is no longer shy but a happy go-lucky, much-loved member of the Goodes family – people often think she's a puppy!"
Natalie Goodes added, "Adopting Chance has changed our lives in such a positive way, we think about all our plans with her in mind and actually spend more time at home to be together as a family. She is housebroken, doesn't chew up our furniture and isn't destructive – we haven't had to worry about the 'puppy phase'. Her love is unconditional, and we can't get enough of her little butt wiggles every time one of us walks in the door!"
With your support we are looking to raise $150,000 by 30 June to fund the Senior Pet Project for the next 12 months, enabling us to give the seniors entering our care a new leash on life.  Support the Senior Pet Project today.