When Milo was brought in by a council ranger at only 10-weeks-old, he was terrified. He would hide behind bowls and boxes when approached and would completely freeze when handled.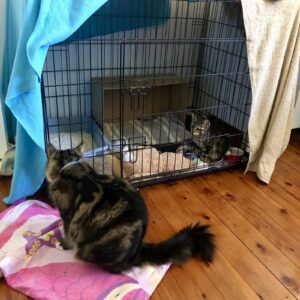 After health checks, Milo was sent straight into foster care with our Reception Team Leader Kylie to help minimise stress. Kylie quickly noticed he would come out of his shell when he heard her other cat vocalise. Milo would even talk back!
"He started purring when he saw my cat," Kylie said. 
"We persevered with my cat who didn't really like him, but whenever he walked into the room, Milo came forward and was a different kitten. He would eat in front of me, give slow blinks and reach his paw out to touch my cat."
Shortly after Milo went into foster care, a kitten named Roro arrived at the Home. Roro was playful and confident – a perfect influence for Milo. So Milo and Roro were introduced and sent into a foster home with Karin, one of our experienced carers.
Karin was a perfect fit, as she already has a laidback, confident cat named Mia, who she adopted from the Home a year prior.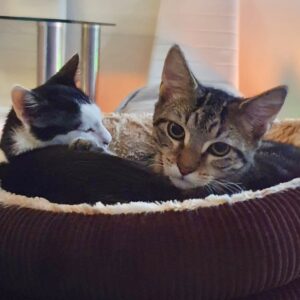 For the first two weeks, Milo seemed a bit confused about the concept of toys and playtime. But with Roro and Mia there to show him the ropes, he's come to love batting around his jingle balls. 
After over two months in foster care, Milo transformed from a scaredy-cat who was terrified of people to a young man who enjoys being picked up and held. Most of all, he loves playing with his foster sibling Roro.
Milo and Roro went up for adoption as a bonded pair and found the perfect home! They were adopted on 19 April by one of our long-term foster carers who is studying to be a vet. Milo and Roro are the family's second and third cats from the Home, having adopted from us 11 years ago. Given their experience and knowledge of cat health and behaviour, they're a fantastic match!