You hear plenty about the animals here at SDCH, but while they get all the limelight, there's an amazing crew of staff and volunteers working tirelessly behind the scenes to keep the place running.
Of course, with over 3300 animals coming through our doors every year, there's a high chance of a team member falling head over heels for one of them.
We thought we'd start introducing you to the people of SDCH who decided to bring their work home with them…for good!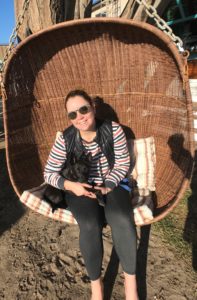 Siobhan Jones has been working on reception at SDCH for 10 months and has adopted two pets from our Home. Not long before starting work at SDCH, Siobhan was fostering Moose the cat. She was, what we call a "foster fail", with Siobhan signing adoption papers to make Moose a permanent member of the household. A few months later, Scout the puppy also joined the family.
Tell us about what you love about working for SDCH.
I really enjoy being a part of the whole process an animal goes through. I was previously working more on the veterinary side of things and at first, making the transition was hard. But getting to see the animals' transition – coming in scared, some unwanted or with health issues, to then going home as well adjusted, social and healthy animals, definitely makes my job one of a kind!
Tell us about who you adopted from SDCH.
Scout is a 9 month old Kelpie X and Moose is a Domestic Short-haired and is just over a year old. I've had Moose since she was a teeny tiny kitten and Scout is our most recent addition and we've had her for just over 6 months.
What made you decide to adopt them?
Moose is a foster fail! Her love of food and biting people's ankles really captured my heart. I originally brought her back to the shelter to be adopted and the next day, I desperately messaged my colleague to let me adopt her!
Scout was a post-holiday baby. I was not looking to adopt another animal, but I returned to the shelter for my first shift back, saw her in the little kennel and fell in love instantly. I had to go through the whole process like everyone else and wait to hear back about my application. Luckily, we were the right family! 
What are Moose and Scout like at home?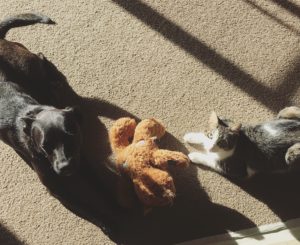 My two fur babies are the very best of friends. They play with each other and Scout cleans Moose (hates every minute). Moose has major cat-titude. She knows what she wants and when she wants it, but also has a very affectionate and loving side. She stands on the furniture and reaches her front legs up to be picked up and cuddled!
Scout is most definitely the biggest character in the household and follows you everywhere, licking your feet and staring at you with her big brown eyes.
 What is their favourite toy or activity?
Moose doesn't have a favourite toy but has a favourite past time of chasing flies. Scout is a lover of anything stuffed! Teddy bears, pillows, lounge cushions and carpet, all the cheap stuff.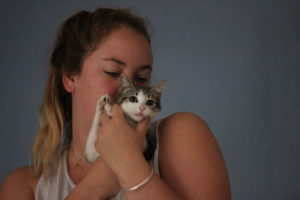 What kind of impact have they made on your life?
Gosh where to start! When you get your first pet, you don't think you could possibly love anything more, and then we got another and your life is never boring again. Our pets have definitely made us a more active and outdoorsy couple, always trying to ensure they get enough attention and exercise!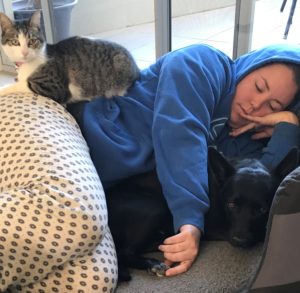 What would you say to someone considering bringing a pet in to their life and why do you think adopting is the way to go?
Be prepared to fall hard and fast in love. I couldn't imagine starting my day without cuddles and kisses from my girls and knowing that I gave a home to animal that would have otherwise been left on the street or unloved. It makes the teething, toilet training, socialising and worrying all worth it, 100 times over.