14-year-old Primrose came into the Home in May as skin and bones with patchy fur and a severe live flea infestation. Her skin was irritated all over, so we immediately jumped to action, administering flea prevention to swiftly kill the fleas.
With her skin under control, Primrose then underwent a thorough health check, when we discovered she had a cyst on her lip, impacted anal sacs, matted fur around her back end and major dental disease, with a lot of her teeth already missing.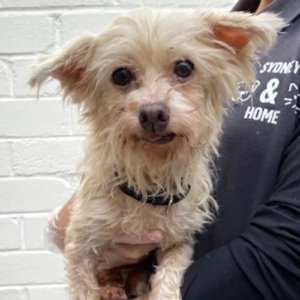 Treatment went underway, with our vet team emptying her anal sacs, giving her a bath, clipping our her matted fur and running blood tests to check for signs of underlying disease, which fortunately came back negative. The team suspected Primrose's dental disease was so bad, she may have an infection extending to her jaw bone, so she started on a long course of antibiotics.
While we waited for her antibiotics to kick in, Primrose was placed into a foster home, where she could recover from her procedures and get ready for major dental surgery.
When Primrose came back in for a recheck in June, she was very itchy around her hind end. While she didn't have any fleas, it appeared she was suffering from flea allergy dermatitis, an allergic reaction to her original flea bites.
The medication continued. Primrose was prescribed a steroid to suppress the inappropriate immune reaction and a new type of antibiotics suited to skin bacteria.
Two weeks later, Primrose was finally ready for her dental surgery. Her diseased teeth were removed, leaving onto one healthy tooth behind.
Primrose healed well and one week later, underwent desexing surgery and a procedure to remove her lip cyst. During the surgery, the team found a cyst on one of Primrose's ovaries, so both her cysts were sent off to pathology. Luckily, they were both benign.
After over $1,100 worth of treatment, things were finally looking up for Primrose, and she went up for adoption.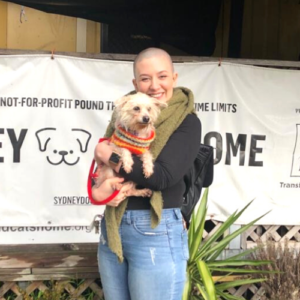 Primrose was adopted in June by Elle and has been settling really well in to her forever home. She's even made friends with her ex-battery hen housemate! Her fur has filled out, she's gained weight and she has the most endearing gummy smile.
Primrose has gotten really close with her mum and despite only having one tooth, is loving all the new foods she's been sampling. Elle told us: "She's the most wonderful girl and I treasure every day that I have with her. I remind her daily that I love her and she simply MUST live forever."
As Sydney's only charity pound and community facility, we rely on donations to give senior pets a second chance in life. Donate today to the Senior Pet Project to give pets like Primrose the care and treatment they need to thrive in their twilight years.
---
ABOUT THE SENIOR PET PROJECT
In its second year, our Senior Pet Project was started as an initiative not only to put a spotlight on golden oldies to help with their rehoming, but also to raise the funds required for their much needed veterinary care and often prolonged stay at the Home.
With your support we are looking to raise $50,000 to help fund the Senior Pet Project in the months ahead, enabling us to give the seniors entering our care a new leash on life.