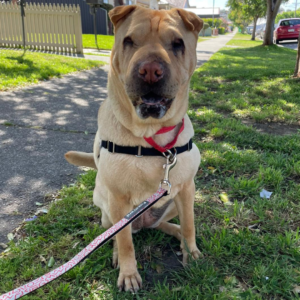 Lovely Lexy the Shar Pei came to Sydney Dogs & Cats Home in October as a lost dog and was a little nervous to be here. Who can blame her, with there being so many new sounds, smells and people? Little did Lexy know, things would start looking up for her.
It was clear Lexy had a few health issues that needed addressing, including dental disease, inflammation in the ears, joint pain in her left hind leg, and bilateral entropion – a common issue in Shar Pei's where the eyelids turn inwards. This can be painful as the eyelashes and skin constantly rub on the surface of the eye.
The Animal Care Team quickly came up with a plan to make Lexy comfortable and alleviate her pain. Lexy went into surgery for extraction of her diseased teeth, desexing and entropion correction. She was also prescribed pain medication to address her joint pain and inflammation.
Lexy's surgeries were a success, and it clearly made a big difference for the lovely lady. With her discomfort behind her, Lexy became a lot less nervous and started making friends with the staff and volunteers. She became excited when she saw someone she knew outside her kennel and enjoyed having a chat with her doggy neighbour Maya.
Lexy's favourite activity is her daily walks and sniffing everything in the neighbourhood. Since Lexy is a mature lady at nine years old, she prefers taking her time on her walks and is happy to amble alongside her humans rather than racing ahead. When Lexy isn't basking in all the smells in the neighbourhood, she is stretched out and resting on her favourite comfy bed.
Lexy has now made a full recovery from her surgery and has even found her forever home! She is now spending her days snoozing on her bed and smelling everything she can in her new neighbourhood. She's looking forward to many golden years ahead!
Published 15 December